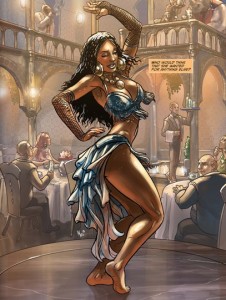 Publisher: Image Comics

 Created by: Joe Casey and Richard Starkings

1st appearance: Elephantmen #29
Real Name: Sahara Serenghetti
Team Affiliations: Elephantmen
Legal Status: Unknown
Height: 5'11              Weight: 127 lbs
Eyes: Brown                   Hair: Brown
Relatives: Unknown
Skills and Abilities: Panya is a world class dancer who can mimic almost any movement she has seen. This skill has also allowed her to become the body double of Sahara able to fool even her fiancé Obadiah Horn who has enhanced senses. Panya is also a capable hand to hand combatant who knows how to use guns and blasters.
Powers: Panya through the use of Tarot cards can discern the future.
Biography
Panya started out as a dancer in the "Eye of the Needle" run by Casbah Joe. She came to the attention of Sahara while she and Obadiah Horn were having dinner there. Her uncanny resemblance was noted by Sahara [Elephantmen #29] who later recruited and trained her [Elephantmen #37] as a body double to allow her time alone to go out into the city unknown to everyone [Elephantmen #26-27].
While Sahara was away roaming the city she started wondering if she could take over her life [Elephantmen #29]. When Sahara returned she pretended that she was frightened at the prospect of sleeping with Obadiah [Elephantmen #30].
When the "Silencer" visited the Needle they were attacked and she found herself fighting alongside him before sharing his bed [Elephantmen #40]. In a bid to become pregnant for Obadiah, Sahara had both herself and Panya impregnated with his DNA thanks to Dr. Sakamoto [Elephantmen #42]. While on a video shoot impersonating Sahara she was visited by representatives from Promethean [Elephantmen #47], she was forced to terminate her pregnancy [Elephantmen #48].
While Sahara was off having her and Obadiah's child Panya decided to get married to him in her stead, her desire to take over Sahara's life literally reaching a fever pitch. At the wedding ceremony her marriage is stopped by the arrival of Hip Flask [Elephantmen #60]. Flattered by the battle that erupted between Hip Flask and Obadiah Horn over her she refused to flee and instead beckoned Horn to kill his foe [Elephantmen #61]. The battle stopped thanks to the arrival of Sahara and her child. After the reunion of the family Sahara's father, Joshua Serengeti arrived. In fear of her life she grabbed and then offered Sahara's son to him. Upon realizing she was an imposter he secured the child and shot her in the chest. She died almost instantly [Elephantmen #62].