Publisher: DC Comics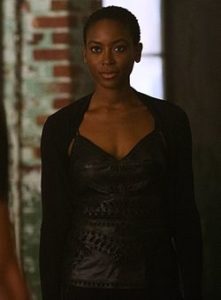 Created by:?
1st appearance: Vixen Animated Series Episode #1
Real Name: Kuasa Jiwe
Nationality: African (Zambesi)
Team Affiliations: Unknown
Weight: 145 lbs    Height: 5'7
Eyes: Brown          Hair: Brown
Relatives: Reverend Jiwe (Father), Jeanne-Mari Jiwe (mother, deceased), General Mustapha Maksai (uncle, deceased), Tantu (ancestor), Mari Jiwe (Sister)
Skills and Abilities: Capable hand to hand combatant.
Powers: As the holder of the Tantu totem she could mimic the powers of any animal. A drawback to her power is that she is occasionally overwhelmed by the feral nature of the animals she mimics.
Aquakinetic allowing her to create water from thin air and control it.
Biography
Origins

As a child, she was born to Reverend Jiwe and his wife  Jeanne-Mari. For a few years, she was an only child and she was also at age four named the guardian of the Tantu Totem. When her village was attacked by the warlord Eshu her mother fled with the Totem and her baby sister Mari.
After escaping herself she gained power and wealth on a global scale all in the hope of reclaiming the Tantu Totem. This eventually did bear fruit as she allied with Dr. Macalester who informed her of her sister's location. She confronted her sister with her men and took her to their village in Zambesi.
There she revealed to her sister their shared history before the two fought over the Tantu Totem with Kuasa defeated and depowered.
Water Bearer
Her sister reached out to her when the warlord who had destroyed their village gained the fire totem. Mari needed her help to track down the water totem. The two found the artifact but Kuasa took the power of the totem as a way to heal herself. As she tried to escape she engaged Black Canary and Atom and Vixen. Convinced to aid her sister they faced the warlord but she was seemingly vaporized in battle.
Legends of Tomorrow
Described as a water witch Kuasa will be the big bad on the upcoming season of Legends of Tomorrow from CW and DC Comics.