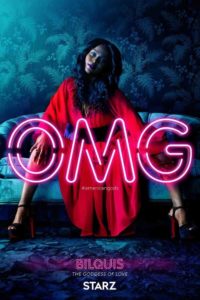 Created by:  Neil Gaiman
1st appearance: American Gods, 2001
Portrayed by: Yetide Badak

Alias: Bilqis, Balkis, Makeda,Queen of Sheba
Nationality: Unknown
Team Affiliations: None
Legal Status: Unknown
Height: Unknown             Weight: Unknown
Eyes:  Brown (Sometimes glows red)                     Hair: Black
Relatives: Unknown
Skills and abilities: Unknown
Powers: Bilquis is functionally immortal, aging at a very slow rate. As the goddess of love she requires love and worship of her followers. To consume this love she engages in sexual intercourse and while being worshiped she consumes them whole with her Vagina.
[amazon_link asins='B074JS3XFR,0062059882,039360909X' template='ProductCarousel' store='Independent Comics' marketplace='US' link_id='fa3967f3-c804-11e7-ae1c-2516cde78ac2′]
Biography
Bilquis—also called Bilqis or Balkis or Makeda—was the legendarily beautiful and uncommonly wise Queen of Sheba. Legend has it she is at least half djinn (or genie). In both the Bible and the Koran, she meets with—and is not outwitted by—King Solomon of Israel.
Bilquis is one of the old gods and considered a goddess of love. In the modern age she seduces men and women and engages in sexual intercourse with them.She then places them in a trance and has them worship her. She then consumes them body and soul with her Vagina thus rejuvenating some of her power.