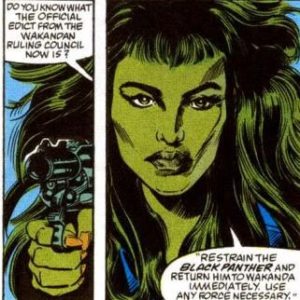 Publisher: Marvel Comics
First Appearance: Black Panther #2, August 1988
Created by: Denys Cowan and Peter Gilis

Alias: None
Citizenship: Wakanda
Height: 5' 8"                           Weight: 150 lbs.
Eye Color: Brown                  Hair Color: Brown
Relatives:  Unknown
Skills and Abilities: Unknown
Powers: None
Biography
Malaika was a love interest of a young prince T'challa sometime after he returned to home after his walkabout where he met and fell in love with Storm/Ororo Munroe but before he left for University in America or he became king. She grew up to become the Wakandan trade ambassador to Paris. While T'challa was in conflict with the Panther God Bast, the two spent a night together, briefly rekindling their romance after he had broken up with Monica Lynne. After the conflict with Bast was resolved she returned to her duties and T'challa returned to Wakanda [Black Panther (1988) #1-4]. She has not been seen since.