The Black Perspective: Diversity, Sales, and Marvel; A Closer Look
[amazon_link asins='1302901621,1302903195,1302900544′ template='ProductCarousel' store='Black panther' marketplace='US' link_id='93c224ee-e6b6-11e7-9616-e545ce30b306′]
By now the news of the cancellation of Black Panther and the Crew has had a chance to marinate in the hearts and minds of fans. Fans no doubt are having flashbacks of Nighthawk and most recently Mosaic, and are probably wondering who the axe will fall on next. It seems that in the last few months, the much heralded diversity initiative of Marvel has been scapegoated into being the reason for recent Marvel's sales woes. Not only their sales woes, but also in the loss of readership. In other words, they are being pulled down the drain by the very things they were counting on to build them up; or at least that is what they would have you believe. They would have you believe, according to one of their executives whom was quoting information he garnered from retailers that the books that have come to represent that diversity initiative, are just not resonating with their customers. They would also have you believe that people aren't going out to buy every single issue of their never-ending schedule of company wide events that require you to either buy multiple issues of various titles, or they stretch that event out to the point that people lose interest in the whole thing. They also want you to believe that at the start of DC's Rebirth and lasting until April of this year, DC's books were priced at $2.99, versus the $3.99-$4.99 price Marvel asked for its books (not to mention the .25₵ sale held by Image in February of this year to celebrate their silver anniversary). Lastly, they want you to believe that they are turning out some of the best work they have ever done, even though some would say that not every book they think is a hit is questionable while other books seemingly never get the chance to take off.
According to the sales figures for April found at www.comichron.com, the sales numbers for Marvel's units sold which star either a POC or in the case of Thor and Iron Man, who are legacy heroes replaced by female leads (Iron Man gets two nods for its female lead being black). The numbers for series that remain ongoing, that are still in circulation but are due to end, and ones that have been canceled were as follows: Black Panther #13- 30,509 (#12 sold 37,012), Spider-man #15- 34,013, Nick Fury #1- 31,683, Black Panther World of Wakanda #6- 14,547, Mighty Thor #18- 37,505, Ms. Marvel #17- 20,881, Captain America Sam Wilson #21- 18,650, and Moon Girl and Devil Dinosaur #17- 7,966, Black Panther and the Crew #1- 35,604, Invincible Iron Man #6- 31,561, Power Man and Iron Fist#15- 13,055, Mosaic #7- 5,876, and Prowler #6 (which ended in March)- 8,843. Nighthawk #6 ended with 8,999. If we throw the Totally Awesome Hulk in the mix, which is slated to come to an end as well, issue #18 still sold 16,009 units in the month of April. Interesting enough, comics like Black #5 sold only 4,484 units, Cyborg #11 checked in at 13,677 units and Earth 2 Society pulled in 13,653 units. Even New Superman #11 managed to pull in 14,708 units, and it has a minority character wearing the "S". So what does all this mean? Well it all translates into dollars. Comic books are made to be read, but they are also made to be sold. In a capitalistic society such as ours, things become less viable if for one second they look like they will lose money, and in particular with comics, there is no such thing as "let's wait and see what happens" when it comes to books with POC/minority characters in leading roles.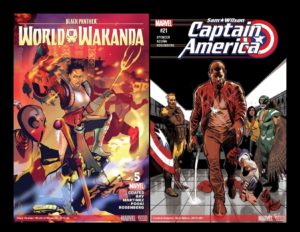 The numbers can be confusing for the average comic book fan who is just trying to find a good series to read. Looking at the sales figures for issue #1 for the three books with black leads they are as follows; Prowler #1- 37,177, Nighthawk #1- 34,039, and Mosaic #1- 44,354. With numbers such as that, one would think that they would be a sure hit, but, somewhere along the way their numbers fell off; way off; the readership diminished; whether from poor storytelling or more interesting characters/books; and never recovered, and then the books started looking more like a miss. Black Panther and the Crew's numbers started right above Nighthawk's and right below Prowler's, and one can only assume that the powers that be over at Marvel surmised that the Crew's book would do the same thing as the others. With Moon Girl and Devil Dinosaur being the exception, all the other books are at least pulling in enough units to stay relevant in the eyes of Marvel. The agreed upon consensus of number of units that seem to define that "relevancy"; i.e., to keep a book going, is somewhere around 18,000-20,000 units, which means that World of Wakanda and probably Captain America Sam Wilson are distinct possibilities to get the boot. As for Marvel, no matter how much they may complain, in the month of April they led all comic book companies according to Diamond Comic Distributors in shares of overall units/dollars, comic books/graphic novels in the top 300, both new comics and new graphic novels released, and had the most items in the top 300 books. It seems that all that whining Marvel is doing is tantamount to being spoiled and greedy.
Now all that sales mumbo jumbo actually means something and is important, but we fans are just not that gullible. Let's face it. In the month of April according to Diamond, Marvel had 92 books out of the top 300 (DC had 77 and Image had 38 rounding out the top 3). So there is no way you can tell me that 4 books with a minority leads are the problem, or that the shuffling around of uniforms, especially when fans know that nothing is permanent in today's comics, is causing fans to not pick up the comics that they traditionally would have grabbed. Why not cowboy up and just call it what it is? Why not look at that man in the mirror and tell him the truth? If you won't we will. We have no problem telling you that some of your decisions have sucked so bad that we hide our head, and more importantly our wallets, in shame. We will tell you that the pettiness in your handling of the properties that you don't own the movie rights to and how you have let that influence you and the books you published turned readers off. We will tell you that instead of complaining to you about all these damn events we will just stop buying your books. Maybe you won't acknowledge that a segment of your fans refused to continue buying your books because they care very little for what they consider your "pandering" to other segments for the sake of sales, but we see them. When we have books like Nighthawk or Black Panther and the Crew which are poised to tell stories from a perspective other than the norm, but you cut them off, effectively silencing voices that have grown weary of that kind of treatment, then we will definitely show you our displeasure. We will also tell you that what you have given us and called "diversity" is lacking, because you don't believe in it yourselves. We will even point out that over at your competitors; they have decided to dedicate a whole universe to POC/minority characters. We can and have tried to tell you again and again, but now we are showing you.