All New Inhumans #7 Review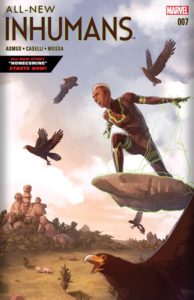 AN ALL-NEW ADVENTURE STARTS NOW! The Unpredicable Anna Kravinoff (a.k.a., one of the Kraven family) joins the cast and leads Crystal and her crew to the wilds of Africa in search of a hidden Inhuman enclave that holds answers to Flint's past. Who are these isolationist Inhumans and why was Flint sent away at such a young age?! Those answers will cause the All-New Inhumans all kinds of problems.
What I thought
This issue we finally get Flint the Nuhuman of the hour finally meeting with his family in Africa. Flint has been an interesting new addition to the Inhuman family and he's seen allot of character growth in a very short period of time.
The real stars of this tale however are the Inhumans of Utolan. Their matriarchal culture is similar to the Royal Family of Kenya of which Storm is a member. Their cultural marriage to nature is also fascinating. Flint has elemental based powers, we also see plant based hallucinogens and a vegan culture based on the consumption of artificially created fruit.
How they view Terrigenesis is a radical departure from Attilan based Inhumans. There is a dark undertone are outsiders allowed to leave? Who stole Flint from his mother? What plans do the mysterious woman and Flint's sister Ikelli have for the nation of Utolan? Good times ahead!
The art courtesy of Stefano Caselli and colourist Andres Mossa are very pleasing to the eyes with Kravenoff and her blonde her hair instantly jumping out as visual stunners. This is a very good looking book.
Overall I really enjoyed this book and considering I managed to pull myself from work long enough from work to review it says allot. I give this issue 3/5 stars