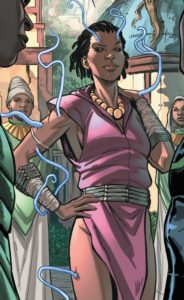 Publisher: Marvel Comics
First Appearance: All New Inhumans #7, 2016
Created by: James Asmus and Stefano Caselli
Alias: Unknown
Real Name: Unknown
Team Affiliation:  The Inhumans of Utolan
Height: 5' 7"                           Weight: 105 lbs.
Eye Color: Brown                  Hair Color: Brown
Relatives:  Flint (Brother), Unnamed mother
Skills and Abilities: Unknown
Powers: She has prehensile tentacles protruding from all over her body granting her multiple appendages to use in combat.
Biography
Born and raised high in the secluded Inhuman city of Utolan located in the Chimanimani mountains, Mozambizue, Africa.  It is currently unknown is she is the first or second born child of a mother who sits on the Maternalcouncil of elders. She underwent Terrigeniss and transcended to her true form.
Years after her brother had returned to the city of Utolan alongside Kraven the Hunter's daughter and Gorgon of the Attilan royal family she was seen conspiring with a mysterious woman to deal with the intruders [All New Inhumans #7, 2016].
Is she friend of foe? Only time will tell!