The Ultimates (2015) #1 Review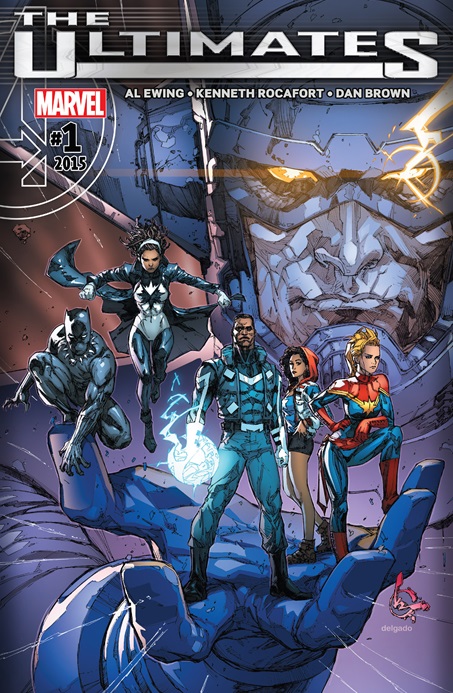 This November, meet the heaviest of the heavy hitters as the ultimate superteam takes shape. Today, Marvel is pleased to present your first look at THE ULTIMATES #1 – the new ongoing series from writer Al Ewing and artist Kenneth Rocafort! Black Panther! Captain Marvel! Ms. America Chavez! Spectrum! Blue Marvel! Brought together to handle problems too big for the rest of Earth's heroes! From cosmic forces lurking on Earth to what waits on the outside of the omniverse – the impossible is where they start! Their first target? Putting an end to Galactus, the devourer of worlds once and for all! This could get ugly. There's a new superteam in town. Don't miss their first blockbuster adventure this November in THE ULTIMATES #1!
What I thought
Sorry this review is late but….this issue was not exactly what I thought it would be. First off this is my hands down my favourite cover of 2015! Blue Marvel is front and centre flanked by Monica Rambeau, Carol Danvers, Black Panther/T'challa and Miss America all in the palm of Galactus the devourer. Secondly Kenneth Rocafort and Dan Brown are the dynamic duo on art and man it is gorgeous! The bloom lighting off the Neutronium is particularly beautiful. This is a good looking book through and through. By now everyone is aware of who comprise this team, namely big bad Blue Marvel/Adam Brashear, the now king again of Wakanda T'challa/Black Panther, the sun goddess Monica Rambeaue, Latina LGBT hero American Chavez and Carol Danvers/Captain Marvel. It's a solid team, full of awe inspiring powers. This book feels like a continuation of the big ideas that were a benchmark of Jonathan Hickman's Avengers run which culminated in Secret Wars (2015). The ideas and the super science are clearly this book's "thing".  That is fascinating on multiple levels the problem however is that this opening issue is all set up. The Ultimates is a very exposition heavy book. So much so that unless you're into that throwback feel it can put you off. Every team member is given a situation and enough exposition to establish them as part of the team. For some this is more effective than others. Black Panther is established very well, with an ego and a brain to match. Blue Marvel and Captain Marvel likewise. American Chavez stands out though. Knowing that Monica Rambeaue is a sun goddess who can move at the speed of light and American Chavez is moving at almost the same speed…smiling as she devastates their enemies. Solicits and hints from Avengers (2015) #1 and All New All Different Marvel Point one #1. She is poised to oppose the team at some point…even temporarily and that is something to look forward to. The closing pages has Blue Marvel proposition the world eater in a very matter of fact way which I found…different, almost confusing but utterly fascinating.
Verdict
Ultimates #1 is not a perfect book, no. It lacks emotional resonance, team chemistry etc. What it does have though is the Avengers flavor made popular by Jonathan Hickman with the most divers cast in mainstream comics right now. It has potential but it's not quite there yet. We give Ultimates #1 3.5/5 stars