Duke Thomas (Future's End)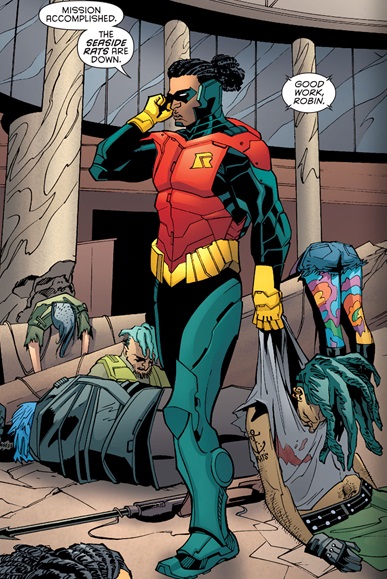 Publisher: DC Comics
Created by: Ray Fawkes and Dustin Nguyen
1st appearance: Future's End Batman and Robin #1, 2014
Real Name: Duke (last name unknown)
Alias: Robin
Nationality: American
Team Affiliations: Batman Inc
Legal Status: Unknown
Height: 5'8                       Weight: 190 lbs
Eyes: Brown                        Hair: Black
Relatives: Unknown
Skills and Abilities: Duke has been trained by Batman in a variety of martial arts and detective skills.
Powers: None.
Equipment: Duke has been outfitted with a high-tech suit of armor which grants him enhanced resistance to injury and a visor through which he can communicate with the Batcave.
Biography
In the Future's end timeline Duke is the teenage sidekick of Bruce Wayne/Batman. He is outfitted with a high tech suite that enhances all his abilities and a customized bike. He saves Batman from Heretic after Bruce tries to keep him way because he was afraid he would be killed the same as his biological son Damian Wayne/Robin III [Future's End Batman and Robin #1, 2014].