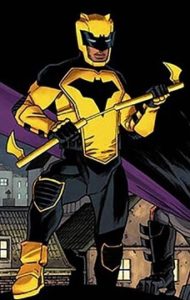 Publisher: DC Comics
Created by: Rob Snyder and Greg Capullo
1st appearance: Batman #21, 2014
Alias: Robin, Lark
Nationality: American
Team Affiliations: The Robins of Gotham
Legal Status: Unknown
Height: 5'8                       Weight: 155 lbs
Eyes: Brown                        Hair: Black
Relatives: Unknown
Skills and Abilities: Duke appears to be very agile.
Powers: None.
Equipment: None
Biography
First introduced during the Batman: Zero Year. His parents have been missing  since they were used for bait when the city was overtaken by Joker Zombies [Batman: Endgame]. After this he became a ward of the state and bounced around foster homes. He is currently a student at West Robinson High with a low GPA. The loss of his parents affected him badly and he acted out and became a problem child. At his new school they noted that he had potential as a writer, ran track for the first year and even tried out for soccer, but disagreement with strength trainer resulted in expulsion from the team. He's very athletic, but not driven by competition.
After being beaten up by some local bullies Dr. Leslie Thompkins was convinced she could no longer keep him out of Juvie. He would also lose his hoe at his last foster parent, Mr. Mendez. Upon being taken to his new foster home he decided t was time to run away and make it on his own. When he was almost killed by a mob the "Robins" arrived to save him after finally locating him after an undisclosed time of search [We are Robin #1].
After joing the "We are Robin" team and meeting both Damien Wayne and Batman he became Batman's protegi. After training he eventually became the superhero"The Signal".
ALTERNATE VERSIONS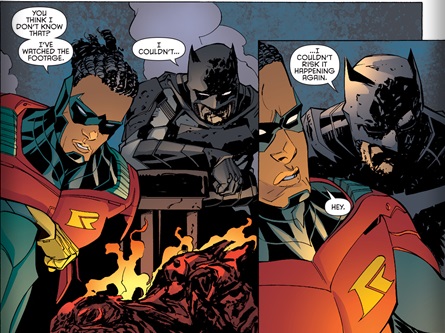 In the timeline depicted during the events of Future's End Duke had become the official crime fighting partner to Batman/Bruce Wayne years after the death of his biological son Damien Wayne. Wayne was far more protective of Duke than his previous boy wonders despite him being much older. This Duke underwent extensive training with Batman and was also outfitted with armor more similar to Batwing than to all previous Robins.   [READ THE BIOGRAPHY HERE…]