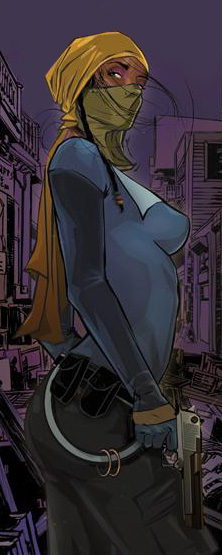 Publisher: Boom Studious
First Appearance: Nola #1, 2009
Created by: Chris Gorak and Damian Couceiro
Real Name: Nola Thomas
Height: 5'7                  Weight: 140 lbs
Eye Color: Brown      Hair Color: Black
Skills and Abilities: Capable street fighter and competent armed combatant.
Powers: None.
Biography
Nola was a young woman living in New Orleans with her mother right before Hurricane Katrina. She was having an affair with white businessman Chevis Turner. She wanted a relationship, he didn't. One night after a fight they crash and Nola is left to burn in the crashed car [Nola #1].
She manages to crawl out of the car but is still badly burnt and injured when the car explodes and she is struck by Shrapnel [Nola #2]. She is found and taken to a hospital where she is overseen by Dr. Chase. He laments that she is as good as dead and the nurse set her up with an IV right before Katrina hits [Nola #2]. Despite the odds Nola survives and awakens in a flooded and abandoned hospital. She manages to swim to her home with the aid of debris only to learn her mother has died. She is comforted by family friend Mr. Jeffries [Nola #2]. Jefferies hands her the last remnants of the life she had in the form of saved pictures before she journeys to her friend Cinda Branford. On the way she is knocked unconscious by two police officers and thrown in Jail [Nola #2].
Finally reaching Cinda she tries to get aid from the police but gets none since Dr. Chase declared her dead before the hurricane and Chevis had reported that she had stolen his car [Nola #3]. Angered and wanting revenge she decides to track down and kill Chevis and those who had aided in his "attempted murder" of her [Nola #3].
Now a scared and hooded figure she makes her way back to New Orleans where the two officers again try to stop her. This time she manages to fight them off and kill both [Nola #1]. After visiting Mr. Jeffries again who now lives in her home she departs for Dr. Chase. She breaks into his house shoots off his hand first before hearing his confession and blasting him in the chest [Nola #2]. Before the Doctor dies he confesses that he knew her father and implicates Chevis in his murder. She finds Chevis car dealership and the proof she needs to confirm his involvement [Nola #3]. Nola also realizes that business man Rondelle was also involved [Nola #3].
Nola kills Rondelle and Chevis before returning home to a captured Mr. Davis and Cop Thibedeaux, the man who pulled the trigger ready to cut a deal with her. She refuses and with Davies help overpowers and kills him. Having already been legally declared dead she leaves New Orleans for good for parts unknown [Nola #4].