New Avengers (2013) #22 Review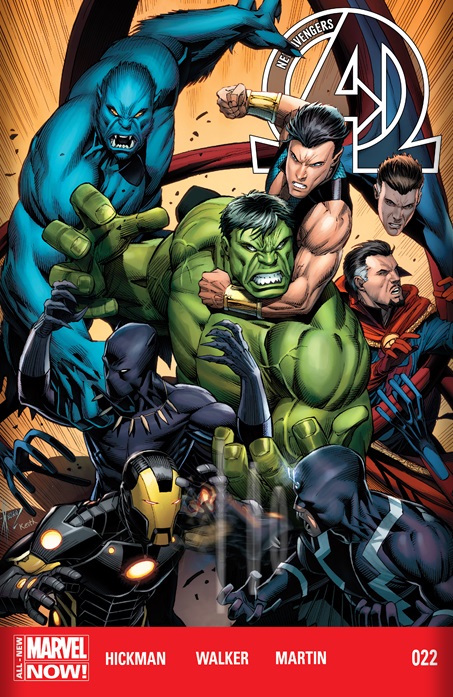 "THIS IS THE VERY END…"
The Illuminati shatters under an exploding planet.
The Good
Art- This month we have an artistic shift as Kev Walker takes over. It's a different style yet perfectly suited to the emotional high-end drama that takes place this issue. Welcome Kev!
Emotion– Namor and T'challa exchange not just physical blows but words that may leave an even deeper scar on each other's egos and souls. When T'challa says that every breath Namor draws is a gift from him it cuts Namor deeper than any sword. With pride wounded Namor lashes out emotionally and verbally to hurt T'challa in the very same manor. This exchange and the hate that seethes to the surface is venomous and acidic all at the same time.  It's primal, visceral and raw
Who was right- As many fans voiced at the end of my review of last issue there is the question of just how far one would go to ensure the safety and survival of their people. When do you stop being their protector and become something darker. Adolf Hitler was all about the protection of his people above all else. First it was about getting rid of the Jews who owned most of the businesses at the time to later expanding their empire to ensure their survival and the destruction of those who were deemed as inferior. Muslilini did terrible things to the Ethiopians to expand his empire and ensure his people's survival. When do you become a monster? Namor's behavior this issue makes him seem simply bloodthirsty and cruel but it begs the question, what would you do to protect your own? What is acceptable and what isn't? When do you stop being a protector and instead become "something else"?
Action- This issue presented a well choreographed all out brawl between T'challa and Namor. The entire book was about this simmering just beneath the surface tension that just explodes from these two one time friends and really puts into perspective for the rest of the Illuminati what  they were doing
Payoff– This is it. This is the moment that we have all been waiting for since this series began. The Illuminati collapses under the weight of the "price", of protecting the world. Everyone is left holding the pieces. Everyone has doubts (Except Namor that is).
Death of Friendship– It's heartbreaking to see just how far Namor and T'challa's friendship has been irrevocably fractured. Namor fought with and was friends with  T'challa's Grandfather Azari the Wise.  Namor's friendship with his father T'chaka, his onetime friendship with T'challa, how he betrayed T'challa to Dr. Doom (Black Panther [2009] #1 & Black Panther [2009] #2)  and set in motion the events which lead to Doomwar, then his recent destruction of Wakanda's capital. Namor should evoke a raging inferno of emotion from continuity buffs and Black Panther purists. Watching this friendship disintegrate has been very entertaining but also very painful when you realize that Namor was once an ally of Wakanda dating back three generations.
The Bad
The Other side– It would have been a good touch to add the perspective of the people from the destroyed earth. Just a few panels showing them screaming or bursting into flames would have added some level of reality to what had just taken place. By showing just what took place on Earth 616 we lost a ground level view of just what the reality of the destroyed earth would be like. Just a nitpick.
Art- A few panels were off here and there with elongated faces and a few off emotions were off on others.
The Ugly
 Overall New Avengers (2013) manages to provide enough dram to tug on your heart-strings, cut out your heart and leave you gasping for more. Emotional, exciting and utterly captivating. This book is a must read 5/5