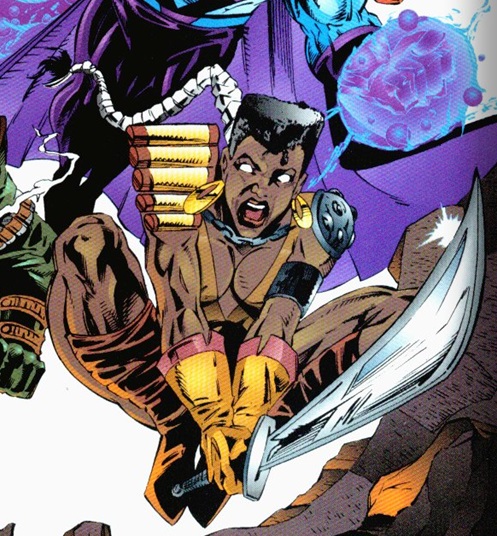 Publisher: Image Comics
Created by: Jim Valentino
First Appearance: Pact #1
Real Name: Unknown
Nationality: Unknown
Team Affiliations: The Pact, The Institute
Legal Status: Unknown
Hair Color: Black               Eye Color: Grey
Weight: 130 lbs                 Height: 5'7
Skills and Abilities: Skilled in the art of swordplay.
Powers: Cutlass is blind but can perceive those around her through their aura. Through this she can discern whether they are good or evil.
Biography
The woman who would one day come to be known as Cutlass was taken to the Institute when she went blind upon the manifestation of her powers. While there she was subject to abuse at the hands of  Mr. Alexander a man who should have been taking care of her but instead used her for his sick twisted sexual fantasies [Pact #1-3].
After she was trained by the Institute she became rivals with Blast. Alongside Handgunn, Blacklight and Slam she escaped from the institute and stayed with Slam's parents. Tensions between Handgunn and Blacklight almost destroyed the grouping. They also faced Youngblood [Pact #1-3].
Attacked by Nightstick, Blast and Sybil she was captured and taken back to the institute. Atrocity somehow tricked her into joining her team. She managed to convince most of her team except Handgunn to join her [Pact #1-3].
The character has not been seen of mentioned since 1993.