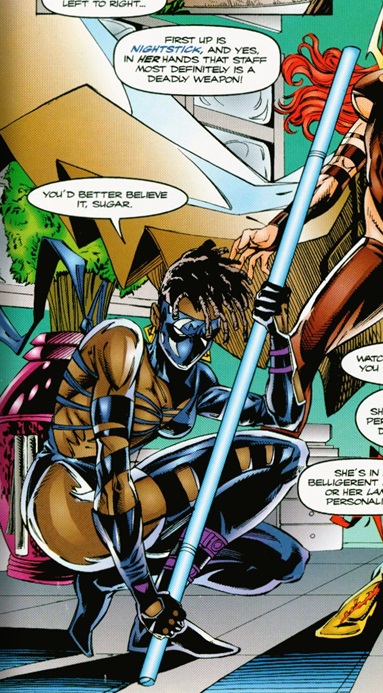 Publisher: Image Comics
Created by: Jim Valentino
1st appearance: Pact #1
Real Name: Unknown
Nationality: Unknown
Team Affiliations: The Institute
Legal Status: Unknown
Weight: 125 lbs    Height: 5'7
Eyes: Brown            Hair: Black
Relatives: Unknown
Skills and abilities: Trained in armed and unarmed combat.
Powers: Unknown
Equipment:
Biography
The woman known only as Nightstick is a member of the Institute. She was sent to retrieve Handgunn and Blacklight after Cutlass had escaped from their facility. Teamed with Blast and Sybil they attacked Cutlass and her team. When they failed to capture the targets they took Cutlass hostage. Their leader Atrocity manages to use her powers to recruit everyone except Handgunn [Pact #1-3].
She has not been referenced or seen again since 1993.