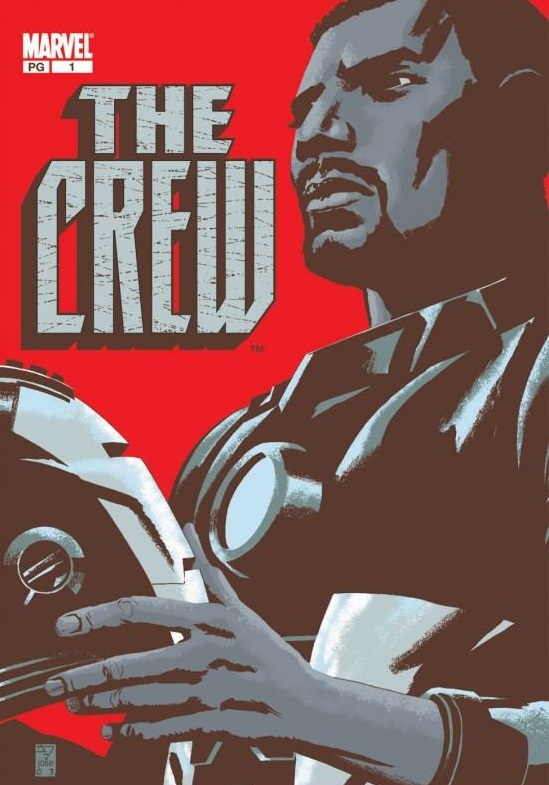 Summary
In the neighborhood known as Little Mogadishu in New York, a young woman is tossed out of a window to her death. The owner of the car, who is also one of the people involved in the woman's death groans; "Can't you aim fool? I just had my whip detailed!" flash to Jim "Rhodey" Rhodes awakens in his penthouse with his latest conquest. He is bemoaning his current circumstances, and plotting his next move. Later he goes to visit an accountant, and finalizes his bankruptcy. A little later he is in a pawn shop, trying to hock his War Machine helmet, only to be turned down, so he hocks his watch instead. He is out on the town entertaining a friend when he gets a call from an NYPD Officer about his sister, who has been tossed out of a window. Rhodey travels to NY to identify his sister's body, and to make funeral arrangements. He begins his own investigation of what happened, which takes him into Little Mogadishu, or "The Mog" as it is called. Rhodey's investigation causes problems, and he is attacked by gang members, he promptly opens up a can of whup ass on them. He meets a Muslim minister named Josiah, who offers to help him. Josiah tells him he knew his sister, and that he never believed her stories about a brother running a billion dollar corporation while she was turning tricks in the projects.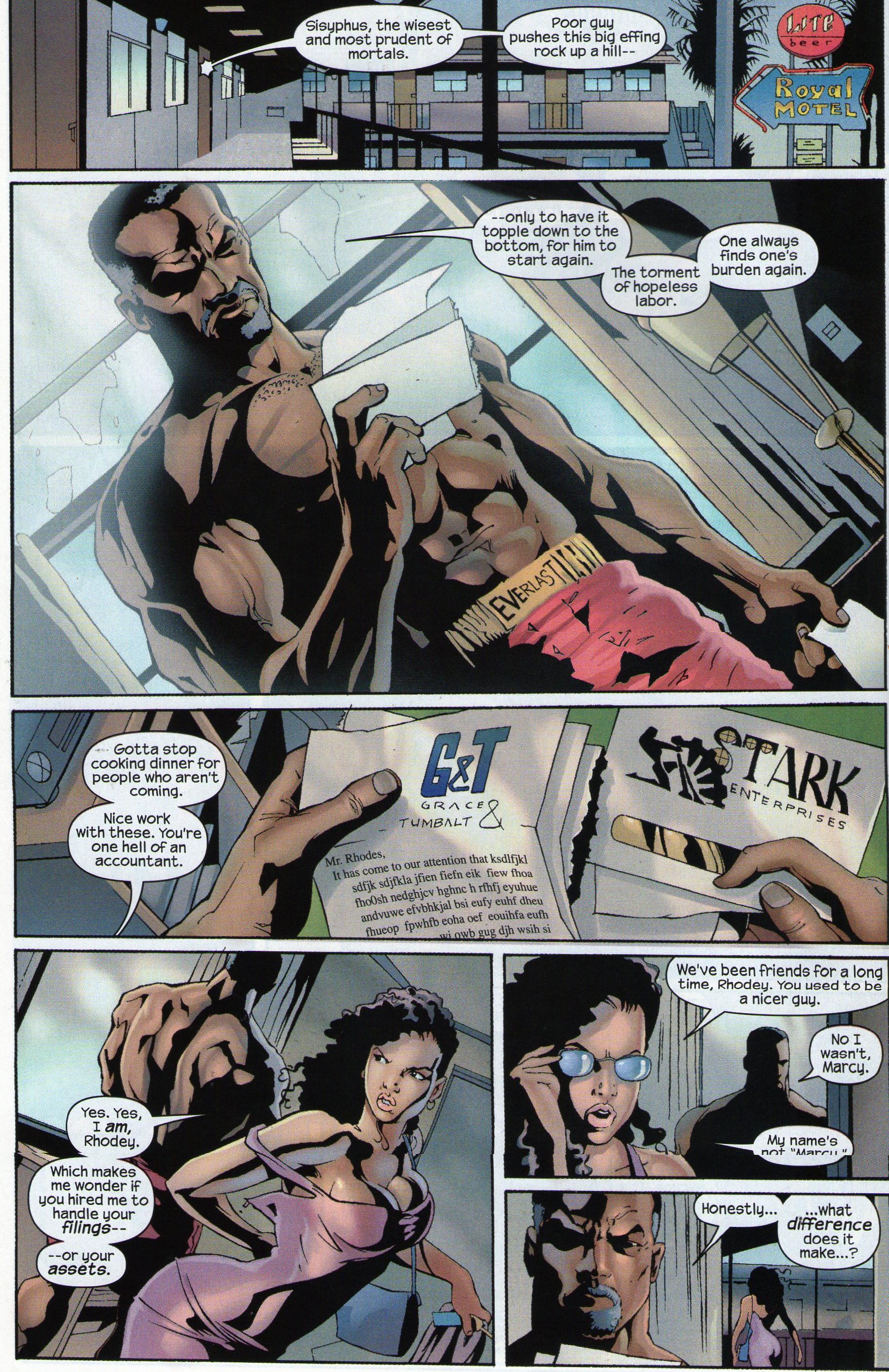 Rhodey continues to investigate, and comes up with two suspects. After approaching the police, who at first did nothing, he continues to unravel clues that lead to the police making an arrest. This is only the beginning of things for Rhodey, who declares to Minister Josiah to pray for him because he was going to be there for a while.
The Good
Story- this story takes place during the time Rhodey was on his own and out of the War Machine/Iron Man armor. While out, he had many adventures, but nothing quite like this. We get to see a side of Rhodey that is unfamiliar to some; the free-spirited ladies man. I guess you can say hanging around Tony Stark kinda rubbed off on him. At this juncture, he is broke. So broke in fact, that he is pawning things to get money! We are introduced, albeit briefly, to his sister; a crack addict turning tricks in the projects. Josiah tells Rhodey how she spoke fondly of him, but he seemingly had turned his back on her. Feeling guilty, he now wants to bring down those responsible for his sister's death.
Art- the art has an abstract look to it but has a lot of detail. The characters look somewhat cartoonish, but the faces convey the feelings they are meant to display, and since the story itself has a noir-esque feel to it, this adds a unique flavor.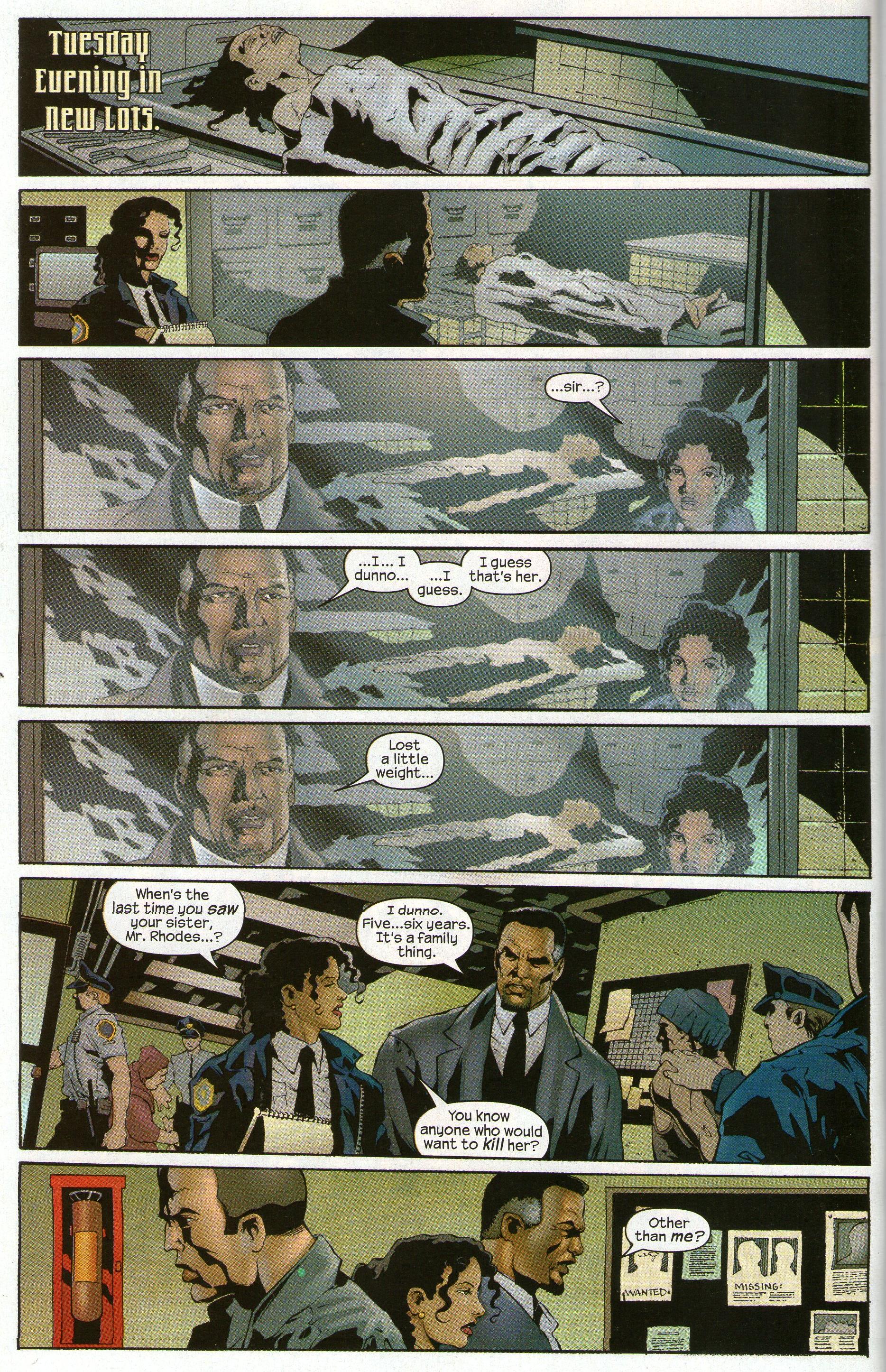 Marvel Universe Continuity- This story falls just after the end of the Black Panther run. Characters Danny Vincent and Kasper Cole where brought over by Priest, and the addition of Rhodey really gives the story authenticity. This story occurs during the period when Rhodey was not in the armor, so it fits in perfectly.  What can we say about Josiah X. He makes the story. The son of Isaiah Bradley; the Black Captain America; his character's addition honors and carries out Isaiah's legacy, which also is continued on by his grandson Elijah; also known as The Patriot.
The Bad
Art- The abstract look may throw off readers, but there is a lot of details, and the colors work well with the mood of the story.
The Ugly
This is a must have for all those fans of the Black Panther/White Tiger, Kasper Cole, and a must have for those who are fans of Isaiah Bradley.   5/5