Rob Liefeld Leaves DC Comics!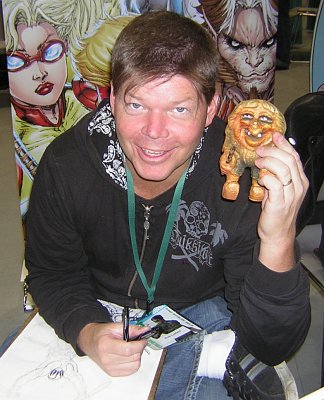 Not new news certainly but I was trying to figure out why this was even remotely relevant to us here at black heroes. Turns out longtime scribe and artist Rob Leifeld is no longer at DC Comics. These tweets below have been making the rounds online since last night around the time I posted about the other Black man in asguard.
Rob Liefeld Pike redesign

Just finished sending my thank you's to DC personnel. Officially got off the DC52 treadmill this morning…

Scott Clark will be replacing me p. Deathstroke. Marat will continue the work on Grifter…I had a great time at DC.

I believe in what DC is doing, but had to preserve my sanity.

I walked off all 3 books. Can't wait to see any attempts to spin. I have every email.

The 0′s are my last issues. Thanks for all the love.

This is the 4th time I quit in the last 4 months. This time it will stick.

I would put @Justin_Jordan on Deathstroke and Grifter. In a heartbeat.

Never thought the Image section of my book would be topped. This last year was a humdinger. The DC52 chapters will go top all of it.

Reasons are the same as everyone's that you hear. I lasted a few months longer than I thought possible.

Massive indecision, last minute and I mean LAST minute changes that alter everything. Editor pissing contests… No thxnjs

Last week my editor said " early on we had a lot of indie talent that weren't used to re-writes and changes..made it hard". Uh, no, it's you
Anyway with Liefeld leaving DC we hope that black supervillain Pike who he used to great effect in "Savage Hawkman" continues to be a central figure either in that series or in the wider DC universe.