Summary
Off the coast of Wakanda Shuri accompanied by her friends infiltrates a ship and make a startling discovery. Elsewhere T'challa checks on here but she's gone missing. He meets with his cousin the only person to escape the ship he informs T'challa that Killmonger has returned.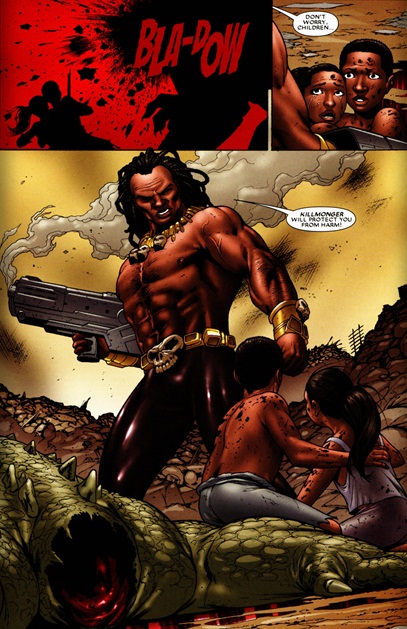 In Niganda Killmonger saves some orphans and vows to protect them. In their poor village he defeats the soldiers and starts to build an army out of them. In America Tony Stark calls T'challa and sends Pulsar to deal with Killmonger. She however underestimates him and ends up another prisoner.
The Good
Cover- Gorgeous! It shows T'challa standing in a fog filled jungle. Sounds simple surely but thanks to Dave Wilkins adds so many layers it just oozes cool!
Art-Courtesy of Cafu comes some slick line work complimented by Val Staples dynamic art.
Villain- The X-men have Magneto, Batman has the joker, Spider-man has Green Goblin and Black Panther has Erik Killmonger. It's the return of the Panther's most fearsome foe not seen since Priest was writing the character and had him kick T'challa's ass. Here he returns in stunning form!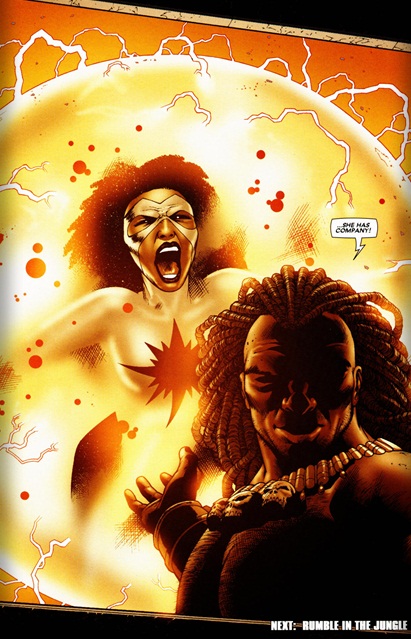 Continuity- This issue drops another hint of treachery in Wakanda which later gets fleshed out as the Desturi whose actions lead to Doomwar. Looking back Hudlin has been planting these seeds for a very long time. There is also a nod to Storm's absence as she's busy in the X-men Messiah Complex storyline.
The Bad
Politics- Some have never liked the political injection Hudlin gave this book. If your one of those this issue is not for you.
Action- Sparse, if this is how you get your rocks off, stay away from this slow paced issue.
The Ugly
Hudlin understands the nuances of using Killmonger as a foil to the titular character and sets up the chess board nicely this issue, things are going to get exciting! 3/5