Green Lantern Corps #7 Review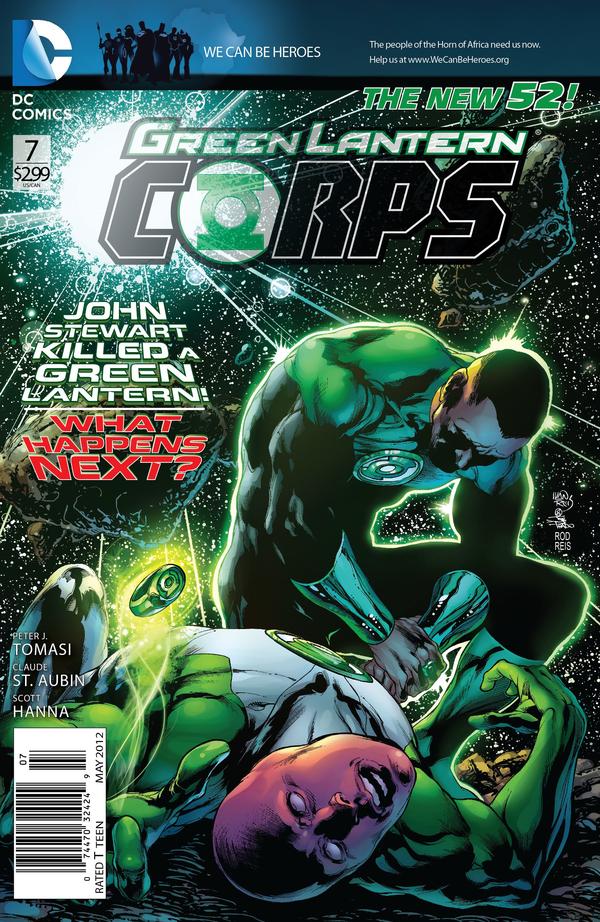 Press Release: In the aftermath of the bloody first arc of the series, John Stewart must bring the body of a fallen Lantern back to his family. But how can John tell them the truth: that he caused this Lantern's death!
Summary
John Stewart carries the dead body of Kirrt, the lantern he killed last issue (See Green Lantern Corps #6 for details) back to his home planet and family while keeping the secret of the his dis-honorable death secret.
The Guardians have words with Guy Gardner in regards to his use of prisoners in the war with the Keepers.
The Good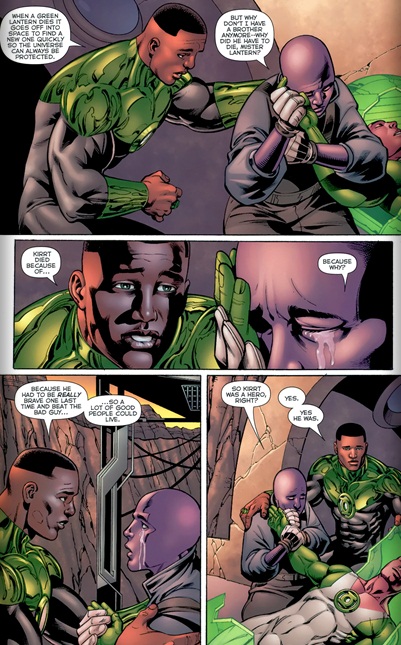 Art- Everything looks good, solid lines and dynamic colors.
Characterization- John and Kyle are my two favorite lanterns and this issue spotlights why John is held in such high regard. Here John's heart weighs heavy over the death of the rookie lantern at his hands as well as the grief of the lantern's family. John more so than any other lantern has a life filled with tragedy. Every time he makes a hard decision of screws up someone dies…or a planet…….yet he remains a solid soldier battle hardened and tempered by his tragic experiences. John Stewart is a treasure trove of emotions and depth that "shallow Hal" and "hothead guy" can only dream of!
Cover- A grieving John kneels before the rookie lantern's dead body as his power rings to the next worthy wielder, backdrop the dark expanse of space and distant stars with the closest star bathing both in white light. Eye catching and visually pleasing!
Story- The grief of the family was very relatable and hit all the right notes. John's desire to give them closure and helping them deal with said grief make this another good/solid book in recent Green Lantern lore.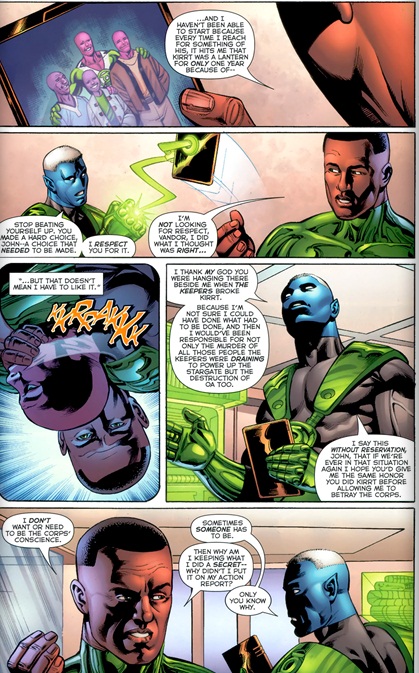 The Bad
Action- No explosions, or evisceration this issue, action junkies will be displeased.
Slow pace- This issue is not for those who can't stand slow paced character driven stories.
Guy- I get that he has saved OA but the guardians seem to be giving him a "pass" for bad behavior and going contrary to orders despite reprimanding John, Hal and Kyle for far less, uneven writing perhaps but kind of nonsensical.
The Ugly
Solid character piece on John Stewart in the aftermath of the opening action packed tale-3.5/5