Summary
Static Shock and Virule face off while the authorities try to intercept them. Static drives off his attackers and saves the authorities. He arrives home late and talks to both his sister and her clone. Back at school he manages to catch the eye of a local gang member with ties to the press gang. That night they go to the club to meet the villains and Static captures a female member and hold her hostage to blackmail the team. Elsewhere Pale man and Piranha make an exchange. Virule realizes he can replicate using statics powers so when the gang meet static he breaks rank and attacks him. Static absorbs all the power generated from New York and throws at the villain. As he flies off we see Virule has replicated.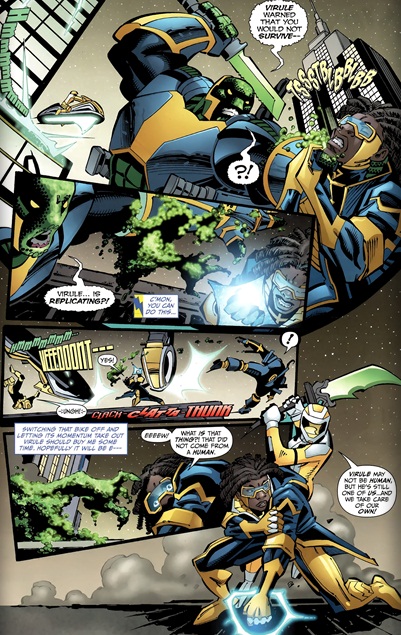 The Good
Static Shock-Mouthy smart ass as always greatly characterized and his tech continues to be the highlight of every issue. This time he creates a makeshift bo-staff for close combat. Good stuff!
Milestone respect- The Dwayne Mcduffie science center and mention of the event which started it all Dakatas "Big Bang" give us a glimpse of what has survived into the new DCU.
The Bad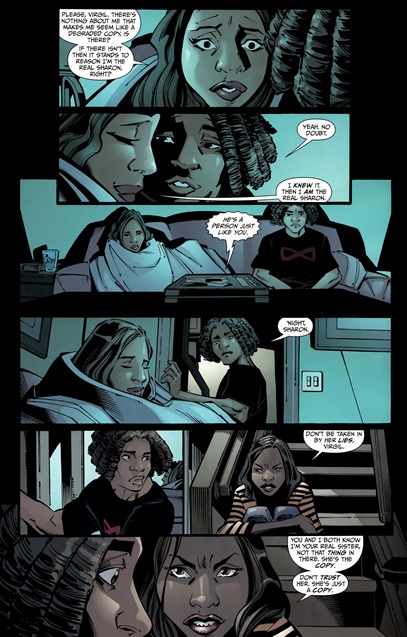 Cover-Worst cover so far, it illustrates a fight between Virule and Static shock but falls flat.
Colors- Strange but the colors in this issue where not as bright as the last two resulting in a washed out feel and drab colors
Clone sisters- Sorry this just seems tacked on and adds NOTHING to the overall story, it honestly just crowds the story
The Ugly
2.5/5