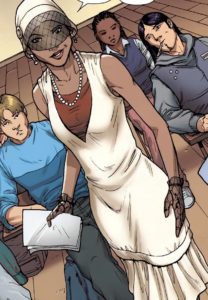 Publisher: Marvel Comics
Created by: Fred Van Lente and Wellington Alves
1st appearance: Power-Man and Iron Fist #1, 2011
Real Name: Sa'ida Zebari
Nationality: Unknown
Team Affiliations: none
Legal Status: Unknown
Height: 5'6              Weight: 110
Eyes: Brown         Hair: Black
Relatives: Muhammad Zebari (Father), unnamed mother
Skills and abilities:
Powers: Noir can metamorph between a normal human form and a super-powered form composed entirely of dark-force energy. In her darkforce form she can walk on air and fire pistols also made of dark force energy. These darkforce bullets can ensnare a target and even negate superhuman abilities.
Biography
Next to nothing is known of the early life of Noir but her father Muhammad founded the "penance group" a supervillain prison enforcement program. Meanwhile she became a scientist working on the "Dark force project". It was apparently here where she became Noir. After her father was murdered by a Neo Nazi gang she decided to get revenge on the man responsible, here she clashed with Power Man and Iron Fist. She befriended Power man in his civilian identity and later avenged her father and returned to life as a scientist.