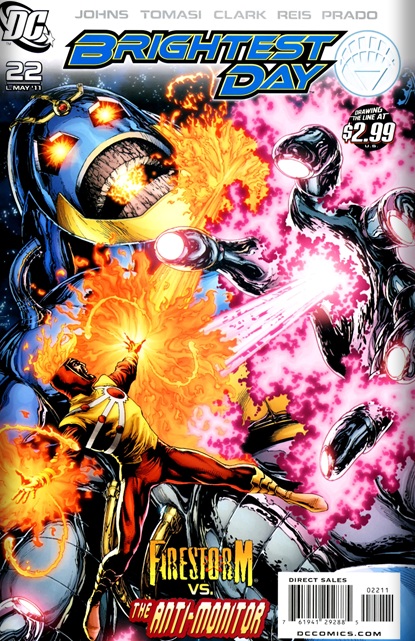 Summary
Firestorm is in the Black Lantern dimension trying to rescue not just his dad and mentor but also the white Lantern. They find the anti monitor who plans on using the white lantern to create dimensions which he will consume to increase his powers. As the anti-monitor tries to access the white lantern's powers it reacts by blasting him with its power. Firestorm then attacks during the confusion and manages to knock back the anti-monitor and retrieve the white Lantern but Deathstorm blasts them separating them into Jason and Ronnie. When Deathstorm tries to kill them however the professor intercepts the blast meant for them and dies in their arms. This causes them to finally embrace each other as the new firestorm thus fulfilling the White Lantern's plans and they transform into a white lantern and vaporize the black lanterns. The White Lantern then transports them to the forest to Deadman also now a white lantern, he demands the white Lantern be handed to him now.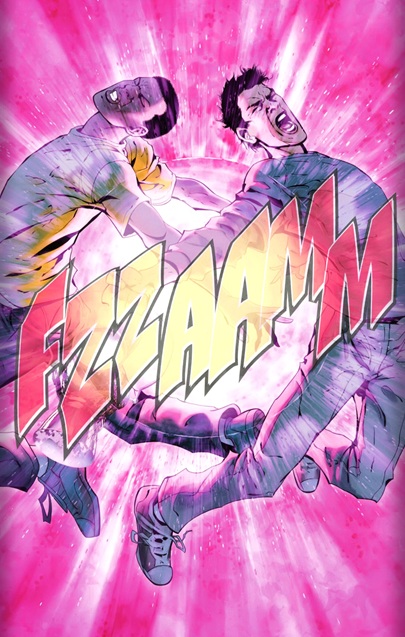 The Good
Cover- its Firestorm vs the Anti-Monitor with a splash of color. Nice cover
Art- Gorgeous dynamic colors, pencil work accentuated by the inks and characters with lovely proportions. Brightest day never disappoints.
Firestorm– The new Firestorm: combination of Jason and Ronnie finally embrace there powers and each other and prove that they can kick ass and takes names with the vast powers at their disposal.
Emotion- This issue has a genuine moment between Firestorm and Professor Stein as both young men have had him as there mentor for quite awhile. He's a big part of the history of the characters and his death here, protecting these young men, one like a son and the other a good friend is a heartwarming moment. This is the stuff that good comics are made of, Geoff Johns thank you for this!
The Bad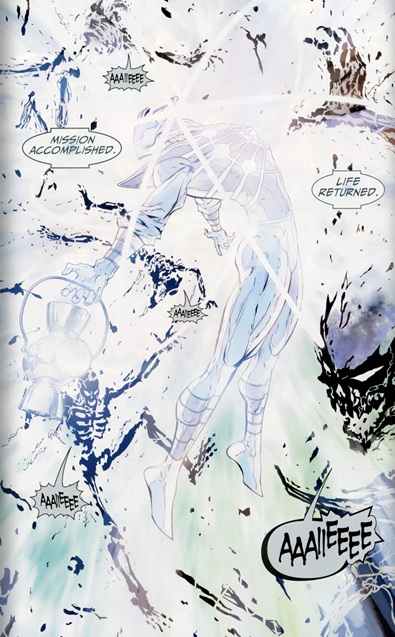 Showdown-After all of the panel time Deathstorm has sucked up since brightest day began the finale clash between him and firestorm is severely lacking.
Anti Monitor- Sorry if I didn't get the memo but was this guy not the essence of the Black Lantern which caused all kinds of trouble in Blackest Night? (shrugs) whatever he's back….AGAIN like everyone else.
The Ugly
4/5 great art and great emotion