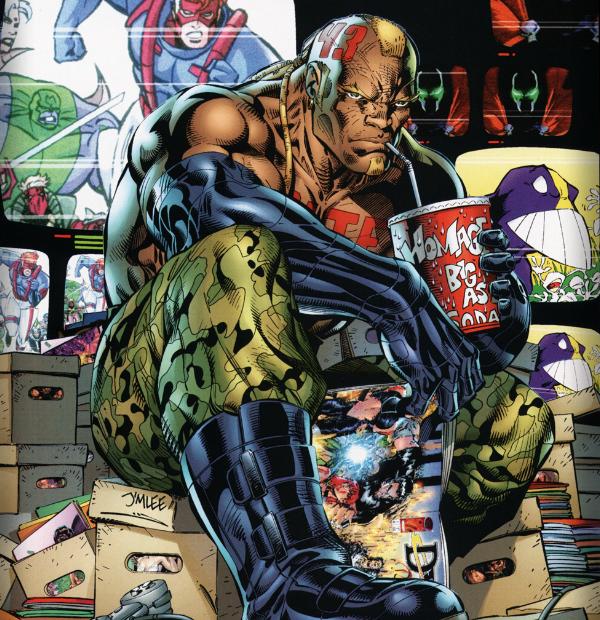 Publisher: Wildstorm Comics
Created by: Jim Lee and Brandon Choi
1st appearance: Gen13 #6, (November 1995)
Real Name: Leon Carver
Nationality: American
Team Affiliations: DV8
Weight: 270 lbs    Height: 6'3
Eyes: green           Hair: Blonde (originally brown)
Known Relatives: Unknown
Skills and Abilities: Capable leader.
Powers: A thermal-reactive capacitator, or more literally a heat extractor, frostbite extracts heat from his environment or chosen target and internalizes it, enabling him to freeze the target solid or create ice. He can also project blasts of freezing "negative" energy or fire. Trouble may occur when he internalizes too much heat too quickly and cannot safely bleed it off. As he reaches his upper limits, he could unintentionally ignite objects or people in close range. If his body is completely overwhelmed he will become unconscious.
Biography
Leon was the American dream, a strong athletic good looking African American football player with every prospect to go pro. Not only was he a good athlete but also a good student, he had good grades and a positive outlook on life and the future. All that changed however when he joined project genesis. Once there he became a part of Ivana Baiul's secret project DV8. After alteration he now has a negative attitude not just toward life in general but also his teammates. His personality much like his power is icy and he suffers from paranoia, convinced he's in the center of some conspiracy. With a new life in New York he begins to realize his attitude and Ivana's money can get him anything he desires. When the teams first leader turned against them he is appointed team leader and shares a romance with Gen 13's leader Fairchild. He eventually defects from the team and liberates his teammates from Ivana.