Black Panther: The Man Without Fear #518 Review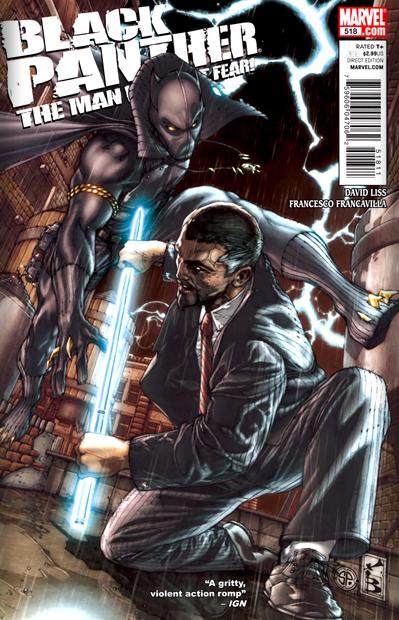 Summary
Vlad kills his son and threatens T'challa before seeking out his wife's killer. Cage arrives in time to save T'challa and a waitress. They mend their relationship and T'challa seeks out vlad who he almost defeats before his younger son arrives and using his powers captures both T'challa and the killer. Vlad congratulates him as a worthy heir before T'challa escapes and captures them both. The killer is taken down by the waitress. T'challa meets and greets the police before finding out the waiter is still alive and altered beyond repair and running loose in Hells kitchen, T'challa vows to find him. In the office of the doctor who performed said experiments she hires Kraven the Hunter to find the boy before anything can link back to her.
The Good
First arc done– Thank god it's over, between the false advertising of last issue and the terrible art this issue I just want to get past the introduction phase and see if this is worth reading for two more months.
Gadgets- I liked T'challa using his brain and new gadgets
Cover- I liked the cover art
The Bad
Solicits-What could have been a cliffhanger ending with Kraven the hunter was yawn inducing with all the publicity already shone on "storm hunter" come next month.
Art- The art in this issue was terrible. It had a hard time particularly as a result of all the action, fights jumped from scene to scene with no seeming flow to speak of.  The rain scenes (which you would expect to be dramatic in a noir book) were  hideous! The entire thing looks like a rush job. Note to marvel next time artist cant turn in consistent work it may be time to send for a fill in! I'm just saying…
Identity crisis- T'challa old chap it's time to return to your country, you suck at keeping your identity a secret. Almost every major character knows his Identity. Both villains being carted off to jail know his ID, the woman working in his cafe also among others. That is sloppy on the part of one the smartest man in the marvel Universe.
Luke Cage- Why was he here really? He behaved like he was back in the 1970's he ousted T'challa's identity in front of a civilian THEN asks her if she knew afterword and if she would tell anybody? What is Luke sipping on Stupid soup? He also behaved out of character, he's been in the superhero game long enough to know why he needs to keep his mouth shut around civilians….alas Stupid soup is what his wife is feeding him over at Avengers mansion (shakes head)
Convenient– Your telling me Vlad the Impaler and the serial killer will both keep there mouths shut about his secret identity while they stand trial and go to jail? RIDICULOUS!
Villain- Vlad started out as a villain who loved and cared for his family , a man who turned to crime to give his family a better life. Family was the most important thing to him. For gods sake he was sympathetic and anyone who has fallen on hard times could even assume he was a good man who had done some bad thing.  In this issue he becomes pure evil , killing his son for no other reason than he has become a liability. Who is this wretch who I feel no sympathy for? He sure as hell did not exist up till last issue. This was a terrible turn for a villain who was more complex than just being evil. Such a pity
Boring- The saddest part about this finale issue of the opening arc was how bored I was with each passing page. If Storm hunter does not deliver big time I'll consider dropping the Black Panther from my pull list….the first time in over ten years 🙁   you should consider doing the same.
The Ugly
devastatingly average 2.4/5 🙁