Sahra Indio talks about Dread & Alive: The Lost Tapes
Hey Black Hero fans here's our very first piece of exclusive coverage for the "Lost Days Event" an Interview with the Magnetic Sahra Indio.
Tell our readers a bit about yourself.
I grew up in a very musical family in Philadelphia where I was encouraged to play an instrument by joining the Jr. High School Band. My interest was in the drums but I was handed a Clarinet. Two years into studying the instrument I lost interest and quit the band. It would be in Hawaii after relocating as a young adult that I co-found a reggae band in 1993. Jahringa Reggae Band is where I started and adoring fans have encouraged me onward over the years.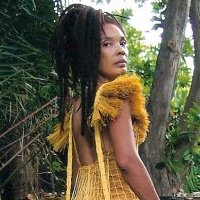 "She (Sahra Indio) has a VERY interesting and SOOTHING style and I hate to fall into allegiance with almost hilarious stereotypes and clichés, but when I first heard her, I said to myself that she sounded like a Reggae version of international superstar musician Sade (and of course the subsequent research that I found on her had that name IMMEDIATELY present in it). It is certainly fitting because she has this wonderful 'soulfully airy' tone to her voice, which just reaches the listener in places that most artists don't. Indio also has this very nice way of presenting her music which I think is due to her excellent writing and as I tend to say, it's always so nice when every song is actually ABOUT SOMETHING, which is what seems to occur in the vast majority (I.e. all) of Sahra Indio's music to my experience". Excerpt from AchisReggae review
What was your interest in being part of this comic book/music collective?
Actually, it was Nicholas Da Silva who located & invited me to participate on the project: "The Lost Tapes"
Were you aware of the Dread & Alive series before?
No, I hadn't heard about Dread & Alive until Nicholas contacted me. In speaking with Nicholas regarding the project he asked, if I had interest in becoming one of the characters in the comic book. I replied, that I would indeed be interested and so we now wait and see how it all progresses. I see myself Sahra surfacing as a magnetic & mystic character!
Can you tell us about your song on The Lost Tapes?
The song, "Jah Fire", was selected to be included in the first Lost Tapes Compilation Album by Zoolook Records. It is off of my sophomore album produced by Tuff Lion.
About the song:
I remember being upset by a young upstart, a musician/singer whose ego was in front of his respect. I thought my backing band & I were all on the same page when a band member called vexed stating that it cuts into his time as a lead singer when the band backs me.
Then he asked rather humbly, "If I thought he was being selfish"? "I can't answer that question for you", I replied. I" said, if you're asking me this question, then you're already reflecting on it". Later that night 'Jah Fire' lyrics came to me over the 911 riddim.
Jah Fire was written as a genuine plea to Jah to heal all of we – "I pray Jah Fire burns our tears away, I pray Jah Fire will erase fears" , so that we might open up to live and let live. There is boundless space for all to shimmer & shine simultaneously. Just look up in the sky on any Moonless, black night to see countless billions of pulsating shining stars.
What makes "JAH FIRE" stand out from your other tracks?
Perhaps, AchisReggae review sums it up best:
"I had such an interesting (fitting) time trying to figure out what my absolute favorite tune on Change was before ultimately deciding on the MASSIVE 'Jah Fire'. The first time I heard this song, I don't know if I was going through an emotional moment or what, but I literally teared up a bit and I'm not quite sure why. Having listened to it several (dozen) times since, I've been unable to reacquire that particular feeling (which is so nice because perhaps that meant that Sahra Indio's wish that "Jah fire burn out our tears" has actually occurred for me), but I LOVE this song, I really do. It has that characteristically crisp Tuff Lion sound to it and of course the vibes and the message are well powerful as well".
What was the experience like working on the very first comic book/music collaboration?
I am honored to be included on the first of The Lost Tapes: Compilation Series alongside some of the hardest hitting, conscious artists in reggae music.
This is history in the making, how do you feel being a part of that?
Everyday is a page in the book of life – herstory is in the making when I rise. Fusion, collaboration is the bridge toward the future and in that I feel in step with the new paradigm that is emerging as Nas poignantly, points out, "We're All Distant Relatives". So, we need to mix it up to reach the highest potential.
Thank you for your time Sahra and all the best to you in your future endeavors, it was a pleasure.
Stay tuned BH fans! The coverage has just begun! Dread & Alive: The Lost Tapes vol.1 arrives on itunes September 14th!!!
Dread & Alive: The Lost Tapes is released in association with Soul Of The Lion and Zoolook!!!