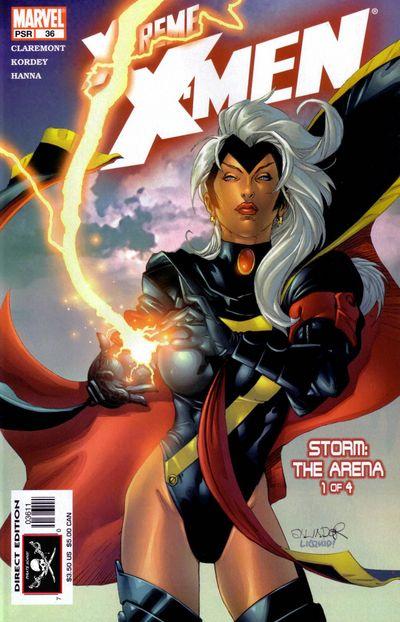 "STORM: THE ARENA" pts. 1-4 (of 4) Featuring Storm as you've never seen her before in this special super-sized, weekly story arc! How will this warrior fare when she is forced to endure the brutal combat of the gladiator ring? Guest-starring Yukio and Callisto.
Summary
Previously, Storm and her team of X-Treme X-men broke off the main X-Men team to pursue the diaries of Destiny. Having been on numerous adventures, Storm and Gambit meet with political leaders and reach an agreement to be given certain authority and clearance in dealing with mutant affairs. In order to obtain this permission, Storm must do a favor for the Russian government and infiltrate the secret world of "the Arena". Storm leaves her team and travels solo to Japan to meet with her old friend, Yukio. After a fun, free-wheeling time, Storm and Yukio encounter Koga-sama, the manager of the Arena. Inviting them to a battle in the Arena, Storm intervenes in the battle and defeats the champion, Muscle head and his opponent, Silkworm. Having intervened, Storm is declared the new champion of the Tokyo Arena and is beginning to be seduced by the wild carefree dangerous life of the Arena and the cheers of the crowd.
The Good
Where to begin? The cover is a beautiful powerful image of Storm with lightning. The cover art by Salvatore Larocca, captures the power and beauty of Storm.
The overall writing of the story flows well. Chris Claremont has always been the definitive writer for Storm and shows how well he knows the character, he helped originally define. He captures the interesting relationship between Storm and Yukio, as he was the one who originally introduced the friendship in Uncanny X-men. These two characters together is always a fun read and he captures that fun here.
The story was also a nice jumping on point for readers who neglected this title in favor of the main X-Men titles.  For any Storm fan, this story line is key read.
The Bad
I have never been a fan of Igor Kordey's art. This storyline was wrought with exotic images, bordering on odd, a bad acid trip, though it fits with the story line of the carefree nature of the Tokyo underground scene.
This issue furthers rumors of the questionable nature of Storm and Yukio's friendship. Many readers have suggested that the nature of their friendship was of a sexual nature, though never explicitly stated. Many of the images in this storyline including the final image in the storyline of Storm, Yukio, and Callisto cavorting in a hot tub with their clothes strewn around the floor doesn't help the matter.
The Ugly
While it was a pleasure to have Storm have her own story line, this was strewn right in the middle of a story line involving the X-Treme X-Men against Bogan. This story line would have worked better as a mini-series.
Also, not much has been followed up with the Arena. Which bodes poorly for Storm, as in a similar fashion, the Morlocks had been previously ignored when Storm was their leader.(Review by Joe Rolon)
Still this is a must-read for Storm fans. I'd give the issue 4/5