Luke Cage Season 2 Review (no spoilers)
On the heels of the stunningly spectacular Black Panther movie and the equally impressive Black Lighting television show debuts Season 2 of Marvel's Luke Cage on Netflix. Unlike season 1 which literally "broke" the internet; or better said; caused such a log jam of requests to view that it overloaded the Netflix server, season 2 debuted to a mixed of reviews; albeit mainly positive. The show is the ninth in the Marvel series, and follows up with Luke Cage, now exonerated and living life as not only a free man, but as "Harlem's Hero"  after what takes place in the Defenders, which is referenced in the show. The show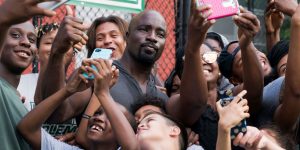 had very large shoes to fill as far as fans were concerned because of the success that not only the two aforementioned shows garnered, but also because of the visibility of people of color on other shows such as The Flash, Marvel's Agents of S.H.I.E.L.D. Krypton, Marvel's Cloak and Dagger, Supergirl, and Marvel's Runaways, to name a few. All superhero shows where people of color play vital lead roles and all shows that are enjoying successful runs on television.
The series also brings back Misty Knight (played once again by the lovely Simone Missick), Herman "Shades" Alverez (played by Theo Rossi), and "Black Mariah" Stokes Dillard (played the Alfre Woodard), along with new comers John "Bushmaster" McIver (played by Mustafa Shakir), Matilda "Tilda" Maybeline Dillard Johnson (played by Gabrielle Dennis) and Luke's father, James Lucas (played by Reg E. Cathey). Also reappearing from season 1 are Bobby Fish (Ron Cephas), as well as D.W. Griffith (Jeremiah Richard Craft), Benjamin "Big Ben" Donovan (Danny Johnson) Priscilla Ridley (Karen Pittman) Mariah illard's assistant Alex (John Clarence Stewart) and Sugar (Sean Ringgold). Also not only reappearing, but continuing their multi-show appearances are Claire Temple (Rosario Dawson) Foggy Nelson (Elden Henson) ADA/DA Blake Tower (Stephen Rider) and fan favorite Turk Barrett (Rob Morgan) who has appeared in an episode (or more) in 7 of the total 9 series that have been released. Finally, Colleen Wing (Jessica Henwick) and Danny Rand/Iron Fist (Finn Jones) make appearances, as well as a mention of Karen Page from the Daredevil/Punisher series.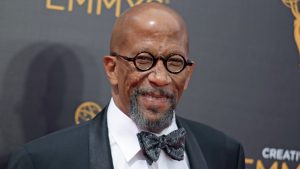 Season 2 also opens up the Luke Cage rouges gallery with the inclusion of several "remakes" of the old comic book villains. Besides Bushmaster and Tilda "Deadly Nightshade" Johnson, fans are treated to the appearances of Shades long time partner Darious "Comanche" Jones (Thomas Q, Jones; seen briefly in season 1 as well)), Raymond "Piranha" Jones (Chaz Lamar Sheppard), Dontrell "Cockroach" Hamilton and his custom made six barrel shotgun Josh (Dorian Missick, aka Simone Missick's husband in real life), Rosalie Carbone (Annabella Sciorra) and Mortimer "Mr. Fish" Norris (Hakim Callender). There are also mentions of the Rivals gang, which was the gang Shades and Comanche grew up in from the streets (and in the comics both Willis "Diamond back" Stryker and Cage are one time members).
As mentioned, the series picks up after the events that transpire in the Defenders series, and fans who haven't done so yet (although unbelievable as it seems) need to have watched season 1 of Luke Cage and the Iron Fist and Defenders series to have proper context. Both Jessica Jones and Daredevil are mentioned, and fans may want to go back and revisit season 1 of Jessica Jones to see Luke's first appearance. Each episode is a few minutes longer than the episodes in the first season, which allows for deeper interactions by the characters, but has an effect on the pacing of the show, and where as the history and community of Harlem are showcased in the first season, the theme of the second season is more about family history, with the main characters each having to deal with issues that hit closer to home.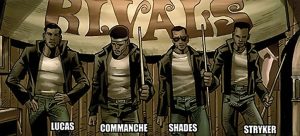 Also, given that the main point of contention is between Black Mariah and Bushmaster, Harlem seems to become more of an afterthought, while the club Harlem's Paradise becomes the crown jewel. Season 2 also focuses heavily on music much like season 1 with Ali Shaheed Muhammad returning to compose the original score which is comprised of mostly blues and reggae, which represents the conflict between the Stokes family and the McIver family. Another gem is that each episode of season 2 is named after a Pete Rock and C.L. Smooth song.much like the episodes of season 1 were all named after a Gang Starr song. Season 2 also represents one of the last performances of actor Reginald E. Cathey, who died in February of this year.
Season 2 is may not have been as widely anticipated as season 1, but still provides a solid sophomore effort in the continuing saga of Luke Cage, Harlem's Hero, and is a solid edition to the Marvel Netflix line up. The show provides fans the opportunity to see Luke grow in not only stature, but also in wisdom, as he settles in to his title and position of the protector of Harlem. 3.75 of 5 stars