Mariah Dillard (Character)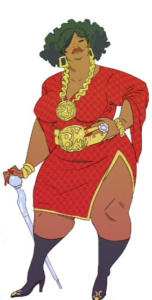 Publisher: Marvel Comics

Created by:  Steve Englehart and George Tuska
1st appearance: Hero for Hire #5, 1972
Alias: Black Mariah
Team Affiliations: None
Legal Status: US citizen with a criminal record
Height: 5'7              Weight: 400 lbs
Eyes: Brown             Hair: Black
Relatives: Unknown
Skills and abilities: Skilled leader and strategist from running a drug cartel.
Powers: She has an unspecified degree of superhuman strength.
Biography
A drug don in her own right. She ran a cartel called the "Rat Pack". Her organization was New York based and were thieves who robbed the bodies of the recently deceased using a stolen ambulance [Avengers Origins: Luke Cage #1]. When her gang took the body of Frank Jenks, his widow hired Luke Cage to investigate. Her gang was defeated by Luke Cage and she was jailed. Shades an old acquaintance of Luke's was working for her at the time [Hero for Hire #5].
She later resurfaced working with Scimitar but this time as head of a drug cartel. This time she faced Iron Fist and Luke Cage and was defeated and jailed once more [Power Man and Iron Fist #88].
In prison she befriended Jennie Royce the former secretary of the "Heroes for Hire" (Luke Cage and Iron Fist). Once out of prison she convinced Jennie to trick Luke and Danny into getting the "Supersoul Stone" from Tombstone. Jennie eventually hands the gem to Mariah and the two make plans to take over Tombstone's criminal empire [Powerman and Iron Fist Vol.3 #1].