Michael Dragon (Character)
Publisher: Image Comics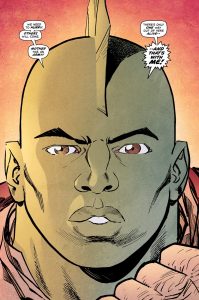 Real Name: Michael Dragon
Created by:  Erik Larsen
1st appearance: Savage Dragon #231, 2018
Nationality: Unknown
Team Affiliations: Unknown
Legal Status: Unknown
Height: 6'1              Weight: 320 lbs
Eyes: Brown             Hair: None
Relatives: Rapture (Mother), Savage Dragon (Father), Kevin/Thunder Head (1/2 Brother), Willie (Uncle), Marsha Bradley (1/2 Sister), Malcolm dragon (Brother)
Skills and abilities: Unknown
Powers: Superhuman strength, endurance and resistance to injury.
Biography
Son of Savage Dragon and Rapture from an alternate time.
Michael was born in Dimension X. He theorized that he may have been conceived on a different day and thus why he is not an alternate dimension version of Malcolm but instead is his brother. He rescued Angel, Her mother Jenifer and Alex Wilde from his mother and her horde of rapist monsters called the Bully Boys.
After saving the women he explains that his mother has gone mad and he needs their help in ending her reign of tyranny.