[amazon_link asins='B003J44V4U,B000OBJUL0,B000WCY8CC' template='ProductCarousel' store='Independent Comics' marketplace='US' link_id='45a133a0-e276-11e7-a7be-332f42e7613b']
Publisher: Image Comics
Real Name: Murdock Ellison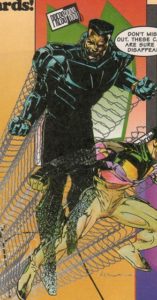 Created by: Todd Johnson and Larry Stroman
1st appearance: Tribe #1, 1993
Nationality: American
Team Affiliations: Tribe
Legal Status: Unknown
Weight: 190 lbs    Height: 6'1
Eyes: Brown            Hair: Black
Relatives: Unknown
Skills and abilities: Genius level intellect.

Powers: Blindspot wore a Stealth suit which allowed him to become invisible.
Biography
Murdock Eliston is Blindspot, a brilliant scientist and Inventor. Murdock has created a stealth suit allowing him to become invisible. Blindspot was apparently a scientific genius whose work was exploited and "stolen from [him]" by Europan. He seems to be the leader of "Tribe" who is out for revenge against Europan while working with Rosalyn, Shift, Short Order etc and rescuing Front while facing down Lord Deus and Out Cold [Tribe #0-3].
As the leader of Tribe he is also responsible for recruiting new Tribe members. He was also was responsible for the creation of Rumble G.E.A.R (General Energy Absorbing Rags) the clothing of most superheroes Police agents.