[amazon_link asins='B003J44V4U,B000OBJUL0,B000WCY8CC' template='ProductCarousel' store='Independent Comics' marketplace='US' link_id='45a133a0-e276-11e7-a7be-332f42e7613b']
Publisher: Image Comics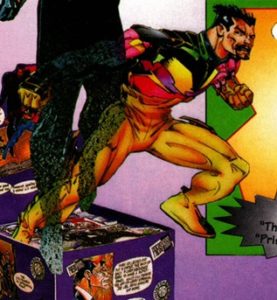 Real Name: Unknown
Created by: Todd Johnson and Larry Stroman
1st appearance: Tribe #1, 1993
Nationality: American
Team Affiliations: Tribe
Legal Status: Unknown
Weight: 180 lbs    Height: 5'9
Eyes: Brown            Hair: Black
Relatives: Unknown
Skills and abilities: Highly proficient in unarmed combat.
Powers: Super-speed and hyper-reflexes

Biography
Shift is a former champion prize fighter with superhuman speed.
Shift runs a scam where he fights normal fighters and pretends to be on the losing end until the bets are against him. He then uses his powers to take out the fighters. While Murdock was out investigating the Hype Club he was being observed by the head of Europan [Tribe #1].
He later aid the team when they battle Out Cold and Lord Deus [Tribe #2-3, Tribe #0].