Savage Dragon #227 and Savage Dragon #228 Review
Savage Dragon #227 Review
Summary
In light of Trump's new laws Malcolm Dragon his wife and their three children escape to Canada where they are welcomed. They settle in as best they can and are also visited by Malcolm's brother Thunder Head who lost his job as a result of the new laws as well. In the other dimension Angel, her mother and Sr. Dragon's girlfriend face hordes of monsters as they seek a way to bring him back to life.
[amazon_link asins='1632157675,1632151928′ template='ProductCarousel' store='Image Comics' marketplace='US' link_id='a8e6cded-d3e1-11e7-b612-6d9d4421107e']
Savage Dragon #228 Review
Summary
Malcolm and the family continue to acclimatize to the Canada. As she handles the kids he and Thunder head worry about Angel who has seemingly disappeared. Malcolm gets a vasectomy to prevent him and Angel from having any more unwanted kids. A villain awakens from Ice. Malcolm and Angel head home for quick shag…with explosive results. He's called away to take on a villain and gets dropped off.
In Dimension X the ladies continue to bond as they continue to be stranded.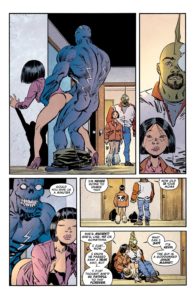 Back at their new apartment Maxine's mother shows up. Malcolm defeats the villain but is left with a good portion of his head is blown off and he loses a hand. When Maxine and Malcolm return home they find her mother and Thunder head having sex in the living room.
What I thought
The art courtesy of Erik Larsen is on point as always. This was however one of the most boring issues of Savage dragon I have ever read. I understand the reason though as it sets up a new status quo, new base of operations, new country etc. Like usual it's not a comic to read with your kids as we get full frontal nudity of Malcolm's wife and so much blood you may think this is Spartacus.
The other issue was more like the Savage Dragon I know and love. It was outrageous and jaw dropping. How on this planet is Erik getting away with this stuff on the comic stand? That explosive orgasm and the…waterfall that ends up in her mouth, the position she is in after the event. I'm just open mouthed at this stuff. The action was also on point and even better we get more of the soap opera drama that we know and love.
I give these issues 4/5 stars