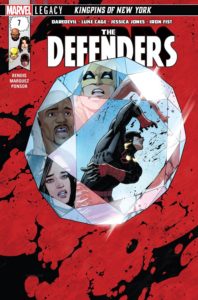 KINGPINS OF NEW YORK Part 2
The Kingpin's kingdom is up for grabs and the streets of Marvel will burn as every major crime figure makes a play to be the next kingpin of crime!
Unfortunately for them, this is exactly why the Defenders have gathered – to defend our streets and make them a safer place! Would you believe – Deadpool?
Summary
Iron Fist and Elektra have a battle in the streets. Diamondback kills Hammerhead and takes over his Uncle's club. Daredevil interrogates Elektra. After the interrogation Deadpool and Punisher who are in the middle of a fight are discovered by the Defenders!
[amazon_link asins='1302907468,B074PCJ665′ template='ProductCarousel' store='Black panther' marketplace='US' link_id='3856e81f-cc7c-11e7-a785-63bc7dbb15bd']
What I thought
Art and Action– David Marquez's art is gorgeous and well suited to this title. This is perhaps one of the best looking books on the stands right now, which is saying allot. The place that Marquez's art really shines is in those epic fight scenes. Take the opening exchange between Iron Fist and Elektra. They start off with a typical clichéd stare off then proceeds to ramp up to 1000 with Elektra and Danny Exchanging death blows in quick succession. Danny is clearly taken by surprise as the viciousness of Elektra just keeps escalating. Without his powers he would have been left dead instead of in a bad way. This fight made the whole issue honestly.
Characterization– Bendis has a handle on the character in his play set and it shows. Witty banter between the characters. Laugh out loud moments and Character moments abound.
Villain– Brian Michael Bendis has literally breathed new life into Diamondback. Thanks no doubt to the excellent depiction of Diamondback on the Luke Cage series by actor Erik LaRay Harvey. This guy is confident, awe-inspiring and quite honestly seems like the kind of threat to rival the Kingpin himself. The way he just buys out Hammerhead's men and even kills said villain is just cold as ice. It's sets him up as a foil for the team who has no problem killing each and every one of them. For a team of Martial artists and nigh Invulnerable types the stakes need to be high and this guys seems like just that.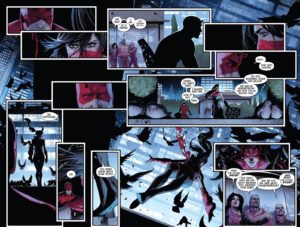 Departure– How does Brian Michael Bendis's departure from Marvel affect books like this? I can't even imagine and don't want to think about the possibilities.
Overall I would give this issue 4/5 for being sharply written and executed by Bandis/Marquez and company!