Publisher: None (Webcomic: http://www.DominoChronicles.com)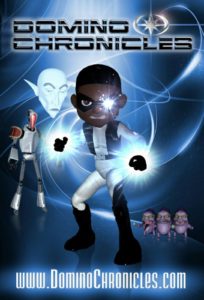 Created by:  Mandel Q. Johnson
1st appearance:  DOMINO CHRONICLES Issue #1   
 Real Name: Derek Anderson
Nationality:  Black
Team Affiliations:  None
Legal Status:  Single
Height:   4'0″        Weight:  85 lbs
Eye color:  Brown  Hair color:  Black
Relatives:  Omar (Father), Janet (Mother), Tiffany (Sister)
Skills and abilities:  Superhuman Strength, Speed, Agility, & Endurance.
Powers: Project energy projectiles and area blast
Biography
Domino is a 10 year old Black kid that lives in an urban area of Chicago, IL.  When an alien race comes to Earth to threaten invasion, he learns that he is actually a descendant of an alien, super powered being who's mission was to protect the planet from this very same invasion.