Rayshaun Lucas (Character)
[amazon_link asins='1302903195,0785196412,0785196404,1302903292′ template='ProductCarousel' store='Marvel Comics' marketplace='US' link_id='bd318b55-d132-11e7-b195-153acfd93ad1′]
Publisher: Marvel Comics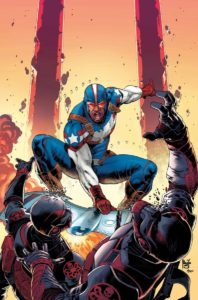 Created by:  Nick Spencer and Daniel Acuña
1st appearance:  Captain America: Sam Wilson #18, (March, 2017)     
Alias: The Patriot, Shaun Lucas
Nationality: African American
Team Affiliations: None
Legal Status: Unknown
Height:                    Weight:
Eye color:              Hair color:
Relatives: Unnamed Mother (Status Unknown), Unnamed father (Status Unknown)        
Skills and abilities: Shaun is a capable fighter after training with the Black Widow A.I.
Powers: None
Biography
Brooklyn born Rayshaun Lucas was home with his mom when Samuel Wilson the All New Captain America released footage which showed former New Warrior and Avengers Initiative member, Rage had not only been wrongfully accused but savagely beaten by the Americops [Captain America: Sam Wilson #18].
Filled with righteous conviction Shaun took to the streets after painting his face like Rage's mask and proceeded to fire bomb a local bank while also participating in the riots that broke out [Captain America: Sam Wilson #19-20]. When Sam Wilson resigned as Captain America he also resigned as an unnamed vigilante and instead started putting together the designs for a costume he  called 'The Patriot" [Captain America: Sam Wilson #21].
When Captain America was revealed as Hydra he created the online persona of Patriot398. It was through this identity that he was able to get Dr. Erik Selvig's files on what had been done to Captain America via by Rick Jones. Shaun then used this information to contact the "Underground". Then he met Viv, the daughter of the Avengers Vision. He was even saved by Viv and the Champions when he was attacked by Hyra Dreadnaughts. This rescue led him to "The Mount" where he handed over the accumulated files to the Stark A.I [Secret Empire #1].
As thanks for his assistance the Tony Stark A.I built him a shield and costume based on his designs. He was also gifted  A.I based on the Black Widow/Natasha Romanoff to train him in hand to hand combat. Shaun was a quick study and while Hydra Still controlled America he was a capable fighter [Secret Empire: Brave New World #2].
When Hydra was defeated he became the Falcon's partner [Secret Empire #10, Falcon Vol.2 #1].