Milestone 2.0 Finally shows it's hand!
Straight from CBR comes these preview pages and info from the trinity of Denys Cowan, Derek Dingle, Reginald Hudlin:
"We thought the Milestone characters work best pretty separate from the original DCU," Hudlin told an eager NYCC audience. (In recent years, Milestone characters such as Static Shock have been a part of the DC Universe proper.) "It's called Earth M also because not everything takes place in Dakota,"
This is good news because I agree! Milestone's world works better as a separate entity from DC propper.
"This is a reset, so no previous knowledge required," Hudlin said of the new books. "Just pick this book up and go from there. At the same time, we will be reissuing the classic lines over time."
I have mixed feelings about this.On one hand I will certainly miss the original Static, Blood Syndicate etc. but I will no doubt enjoy the accessibility of the new versions that I can share with my kids without all the history. This also means we could eventually have a crossover between the past Milestone and the newer one…..crisis on infinite Earth M's anyone?
Now all this news is coming from New York City Comic Con and we also missed earlier news: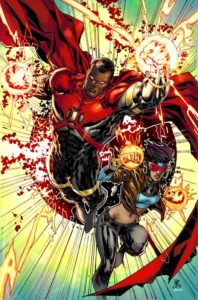 Earth M's existence will kick off in Milestone, an all-new series written by Reginald Hudlin with art by Ken Lashley. The title's stories will be built around Icon and Rocket, two of the first Milestone characters to be introduced in the '90s, though other heroes and villains will be featured as well, as Milestone actively sets the stage for future Earth M series to launch of off.
That has me all kinds of excited. BH fans know I am a huge fan of Icon and Rocket even more so than the more popular Static.  Other announced titles thus far include:
STATIC SHOCK, an ongoing series from Hudlin and Kyle Baker, focusing on 14-year-old Virgil Hawkins, a kid with a love of comics and science who develops dazzling, electric superpowers.

DUO, a new Earth M miniseries written by Greg Pak, introducing the twisted story of Jake and Julie Chan, a couple now sharing one body for eternity.

LOVE ARMY, a miniseries with story by Hudlin, about a secret army of women with amazing abilities and super-strength, sworn to protect the planet.

EARTH M, a new series from Hudlin and Alice Randall featuring a mysterious new vigilante character.
This all makes me very happy but until Icon and Rocket are in hand I will temper my excitement because Spring 2018 is a good long way from now. Enjoy the rest of the Milestone Art below!
[amazon_link asins='1401225497,1578062829,1401225985′ template='ProductCarousel' store='DC Comics' marketplace='US' link_id='b320255c-c70d-11e7-8ff9-8f8e0cfddd38′]
What do you think?
Sound off Below!
More as it breaks!