Savage Dragon #211, Savage Dragon #212 and Savage Dragon #213 Review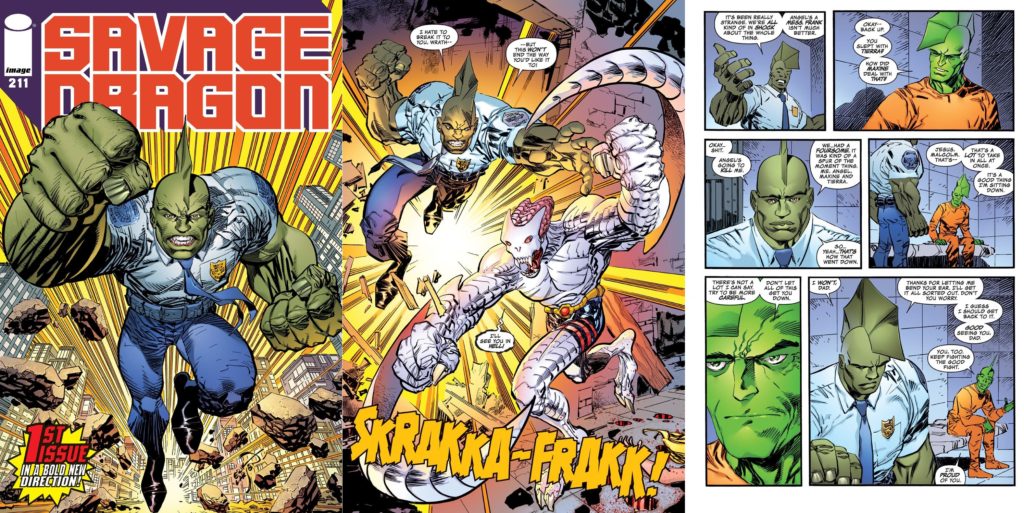 Malcolm Dragon fulfills his destiny and joins the Chicago Police Force.
Summary
Malcolm saves the city once more from a rampaging monster. He slots at the Police Station before visiting his father at prison. Here he explains the foursome situation and how all the women involved each got pregnant and that the first child killed Tiera it's other during the birth process. Maxine gets advice about her upcoming childbirth from Lorella. After facing another monster and rescuing two Dragon Babies he returns home to his wife Maxine. Here he has the epiphany that the vicious circle are really after his children…the ones he had with Tierra and Angel.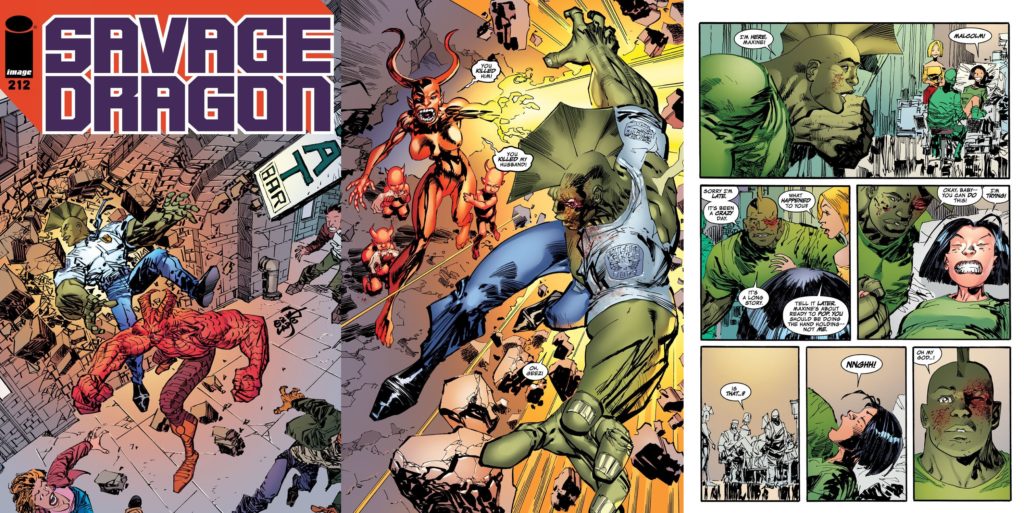 Malcolm Dragon on the force facing his greatest challenge yet.
Summary
Malcolm rescues some captured people who are being consumed slowly by Demonoids. Malcolm kills the Demonoid only to be attacked by the creatures wife and offspring. He defeats and turns her over to the cops before he is called to his wife's side as she gives birth.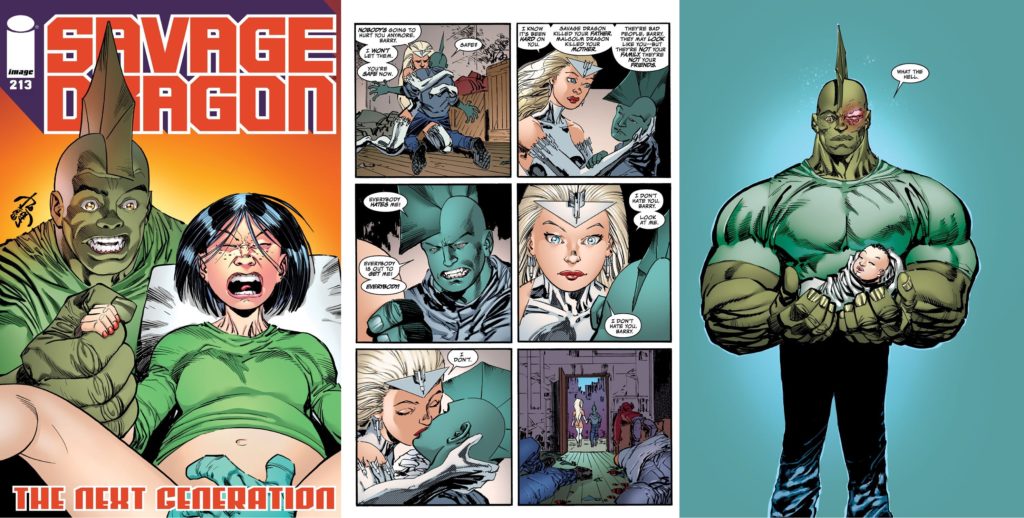 Malcolm Dragon's wife gives birth! And Savage Dragon becomes a grandfather as this multi-generational superhero book set in real time takes its next big step!
Summary
Dart rescues Dark Dragon for her own purposes. Malcolm is shocked with the birth of Maxine's daughter. Who appears completely Asian and human. Angel Accuses her of sleeping with someone other than Malcolm but Malcolm believes Maxine. The baby displays super strength and metamorphs into her dragon form. Dart seduces Barry the Dark Dragon elsewhere. Malcolm is reunited with his other two kids. Malcolm runs off to save the city leaving the children unguarded. While Lorella, Angel and Maxine debate who should keep the children Dark Dragon and Dart kill the nurse and grab the babies.
What I thought
Erik Larsen, where the hell does he come up with this stuff? Savage Dragon just keeps getting better and better and crazier and crazier. This issue Maxine gives birth to her child, turns out she has a daughter which as far as memory s concerned has never quite happened in the history of chosen ones. The kid starts off looking like her mother before quickly showing her super strength and later full on morphs into a yellow tinged baby dragon.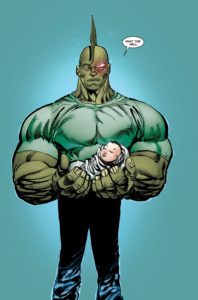 Dart seduces evil Dragon, perhaps to gain control of him or perhaps in the hope that she can create her own band of Dragon babies loyal to her.
The kids that were brought in a few issues back turns out they belonged to Malcolm. One he had with Tierra and the other with Angel. So now the couple have three super powered kids. They plan on taking them home but Lorella who has been trying with the original Savage dragon to repopulate their civilization objects because they will be different and Maxine can't hope to grow them on her own. As they have the conversation unbeknownst to them Dart, Evil Dragon and her crew have killed the doctor and grabbed the boys.
The art as always with Larsen was on point the most striking moment was how he illustrated the three children. One had strong African features, the other European and the other Asian. The eyes are the windows to the soul and Larsen captures this very well. His characters have very expressive and captivating eyes.
I also found it funny how quickly Angel turned on Maxine when the child did not appear like Malcolm was this sisterly defense or hints that she still has feelings for Malcolm?
4/5 stars because it's like a dysfunctional but very entertaining thrill ride of a show. Larsen needs to sell this to HBO or Starz it deserves to be seen on T.V in all it's glory.