Sam Wilson: Captain America #11 review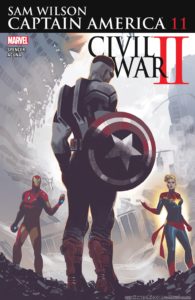 CIVIL WAR II TIE-IN!
With the battle lines forming, Sam must choose a side.
Summary
Tension abounds between the heroes in the Marvel U. Sam is caught in between his friends, who remain at odds about the Inhuman Ulysses and his ability to see future events, and how it should be used if at all. Both Tony and Carol have put up good arguments and have made their appeal to Sam, but Sam has more than just those two on his mind. The Americops have official been integrated into the Law Enforcement community and have made their presence know. Sam's Hotline is blowing up with calls from citizens complaining about the Americops and would like Sam to intervene. Meanwhile on the streets, pair of Americops harasses a couple of guys from the neighborhood and are confronted by the denizens of the community lead by Rage, who engages the brutal cops. As the fight takes place on live television, Captain America and the Falcon spring into action, heading toward the ongoing melee. Across the globe, a strike team is lead in the capture of two terrorist by USAgent, who has been summoned back to the states.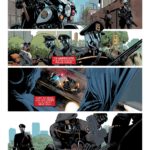 What I thought
The Civil War is cruising along and the lines have been drawn. Now Iron Man and Captain Marvel are recruiting to heroes their side and it's time for Captain America to get his sales pitch. Iron Man in classic Tony Stark form, appeals to Sam with his, "I'm a scientist and smarter than everyone else so believe me when I tell you that it is bad" speech, which even Sam acknowledges that Even when Tony is right he is still and a#%. Captain Marvel's pitch is more heartfelt, calling on Sam's sense of purpose as to why he became a hero. As strong as Captain Marvel's plea is, it is Iron Man who calls it what is really is; profiling, and as a Black man, Sam knows all too well what profiling leads to. Captain Marvel represents the establishment; something Sam has gone against his whole career. And with the current climate, he sees the establishment is still the same as it ever was.
In the streets, we see the profiling in action with the Americops. Sam's hands may be tied in how he has to proceed against the growing threat, but Rage has no such restrictions. Just as Sam was about to broadcast his decision via the internet, his friends point out a CNN broadcast that was happening right then, Rage leads an angry group of citizens of the community that the Americops are in to confront them about their brutality towards them and how they seem to be enforcing their own martial law.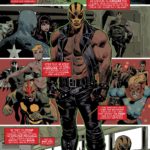 Things escalate into a brawl, and Rage shows the Americops how he gained his name. As this drama unfolds, we see the USAgent drawn into the fray. For those who don't know who he is, he entered the hero world as the Super Patriot and soon after took up the mantle of Captain America when Steve Rogers abandoned it. He became the USAgent when Steve Rogers confronted him and call him out for his overzealousness and told him he was unworthy of the title Captain America. Where will his allegiance stand in the upcoming face-off between Captain America and the Americops?
The Ugly
Nick Spencer has established Sam as his own person sans the advice of Steve Rogers. When it comes to whose side he will end up on is still up in the air. It's good to see Rage living up to his name, and the thought of a showdown between him and USAgent is very intriguing. 4/5 stars