Spider-Man (2016) #1 Review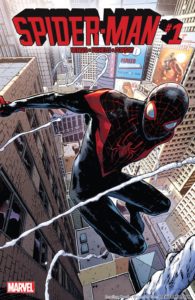 Welcome to the Marvel Universe Miles Morales, hope you survive the experience! That's right, he's here – and the Marvel Universe will never be the same again. Today, Marvel proudly presents your look inside SPIDER-MAN #1 – the highly anticipated new series from blockbuster Miles Morales co-creators Brian Michael Bendis and Sara Pichelli! Sure, he's been doing the super hero thing for a while now, but following the events of Secret Wars, Miles finds himself a full-fledged member of the Marvel U. Swinging next to Iron Man, Captain America and Thor as a member of the Avengers and patrolling the Big Apple's rooftops as NYC's own Spider-Man! But it's not all fun and games. A lot has transpired in the eight months since Secret Wars and an entire new universe awaits him – friend and foe alike. Plus, his grades are in the toilet. The adventure begins this February in the can't-miss SPIDER-MAN #1!
Summary
There is a new Spider-Man in town and this one is not a clone. Meet Miles Morales, fresh from the ultimate universe and swinging on a web near you! Miles is making the adjustment to not only being Spider-Man, but also being a high school student. With the help of his best friend Ganke; one of two people who know his secret identity, the other being his father; Miles will figure things out, but can he do that and face a threat that has taken out the whole Avengers team?
What I thought
I know who Miles Morales is. I have known who he is for quite sometime. Admittedly though, I don't know Miles Morales. I had to go back to the ultimate universe books to get an idea of who Miles is supposed to be and what he really represents. Having done that I can honestly say that I like Miles Morales. This first issue was a perfect starting point for people like me who know about him, but don't really know him. The interactions with his friend Ganke are very natural, and for a character like Miles a welcome change from the loner Peter Parker who carried the weight of his secret alone while in high school. It gives Miles a chance to stay grounded in the real world. The appearance of Peter Parker/Spider-Man is a telling one for Miles as he reacts as we expect a kid his age should; he geeks out! So now having taken the time out to really find out who Miles Morales is, I have to confess that I liked this book more than I thought I would. 4/5  stars