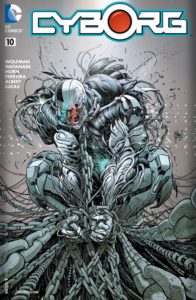 The government has confiscated Cyborg's technology by imprisoning him. But they have no idea just how powerful Vic Stone has become—and neither does Cyborg himself! New abilities are revealed as Vic makes the prison break of the century! But even with his newfound powers, can he stop what's going to happen next?!
What I thought
This issue opens with Victor conversing with the Hologram of his Mother who beckons him to turn himself over to Cyber-Tech. The mother can't seem to recall anything outside of what is known by her son Victor which makes Dr. Stone suspicious. Victor however is more forgiving hoping it's nothing. Before he turns himself over to Cyber-tech he visits the Justice League and hatches a plan to infiltrate and take down the evil organization.
In the present Victor is invasively operated on by Cyber-tech and it's head who reveals he is under the control of the Technosapiens. This is when Victor reveals that he has them right where he wants them and turns the tables, destroying their network and saving the world from their evil scheme.
After the ordeal he realizes that his "mother" was a ploy by the technosapiens to control him and so he tearfully destroys her.
The art, sweet lord the gorgeous art! Daniel HDR and Julio Ferreira give this book life! Victor in this single issue pulls of a Batman-esque table turn on the villains that gave me a big smile and also pointed out just how much the character has grown over the course of this series. It's a pity this series never found its legs and a solid fanbase. Cyborg has so much resonance in our tech heavy world and with his upgraded powers he could easily rival or surpass Superman. I enjoyed it so much I may just go back and read the issues I missed.
It was emotional and heart wrenching to watch Victor forced to kill his "mother" even if she wasn't the real thing. It's the loss of a parent not once but twice!
I give this issue 4/5 stars