Squadron Supreme (2015) #6 Review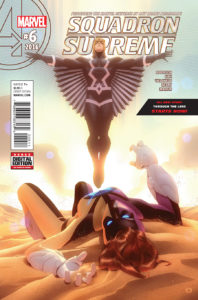 "Through The Lens" STARTS NOW!
As the Squadron gets closer to the answer—who is the cabal of alien races on Earth and what threat do they pose to the planet? – things get personal for Doctor Spectrum as she confronts the man who helped destroy her Earth and save her life…BLACK BOLT! Also, the Squadron's Nighthawk vs. the Nighthawk of the Marvel Universe??
What I thought
Love the bloom lighting effect on the cover as Black Bolt, King of the Inhumans hovers over a defeated Dr. Spectrum. I really enjoyed this book as it allowed Dr. Spectrum to explore the reason behind Black Bolt saving her from her world's death all those months ago during the Illuminati's attempt to stop the incursions. She eventually runs into Black Bolt while investigating base housing aliens. It was also interesting to see the original Human Torch's sidekick has also become Inhuman and now serving at the behest of the royals.
Arkon and Thundra have a proper ending to their relationship, it's simple and clean.
The Battles were illustrated well with Dr. Spectrum facing off against the remnants of the Atlantians being a highlight despite it being rather brief. The team assembling to deal with many threats was also quite cool.
Nighthawk returning home after a long day of saving the world is greeted by the Earth-616 version of Nighthawk. Kyle Richmond isn't much of a talker so this will not end well for the other Nighthawk.
Overall it was a decent though not spectacular issue. It was more set up for what comes next as opposed to what we have gotten used to in this series.
I give this issue 3/5 stars