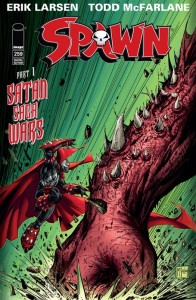 BEGINNING "THE SATAN SAGA WARS!"—THE FOUR-PART STORY CHRONICLING THE FINAL FATE OF WANDA SIMMONS' SOUL! THIS STORY WILL FOREVER CHANGE THE WAY SPAWN WILL LIVE HIS LIFE! In the entire run of the SPAWN comic, our hero has never had to face his greatest threat: Satan himself! Starting with this issue, Al Simmons will come face to face with Lucifer for the very first time. A battle of epic proportion will begin and the prize is… Wanda's soul. This story will forever change the way Spawn will live his life. Join us on this historic odyssey as Spawn takes on the Evil entity that gave him his powers way back in issue #1.
Summary

 In Hell Wanda flees only to find herself captured by Satan's forces. Somewhere else Spawn makes his way through Hell in search of his wife. Satan finally shows up and they engage in battle. Satan reveals to Spawn that he was simply testing him. They bring Wanda to him and make him the same bargain as before: hand over the symbiot and have Wanda. Spawn refuses and Satan declares War on him.
What I thought
As an Erik Larsen fanboy I was so excited when I realized he was drawing the Spawn series. Erik brings his trademark style to the series but manages to tweak it enough that it never seems out of place but instead fits seamlessly into this grim, visceral spectacle.  Despite this subtle change Erik keeps his close up of the characters eyes to portray panic. That shot of Wanda's eyes as she flees immediately springs to mind. FCO Plascenscia provides the colors for this issue and they are dynamic and right at home. This is a very visually captivating book. Larsen only uses one of his trademark splash pages to introduce Lucifer as he attacks Al. It's quite effective as it conveys the size difference which exists between our hero and villain respectively.
The book still lacks an emotional centre though despite Al spending his entire creation loving her. It feels hollow and rather mechanical with no real character growth outside of progression in his powers. Al and his Wanda obsession are getting old like the relationship between Rogue and Gambit.
The cover art is courtesy of the master himself Todd McFarlane and it's adequate but nothing too memorable. In terms of characters we only have Al Simmons and Wanda with Satan barley getting any real character development outside of just being evil for the sake of evil. I'm still waiting for the properties of Spawn's new sword but unless I missed it…I'm still waiting.
I give this issue mostly because Erik Larsen nails it on his end in every way 3/5 stars