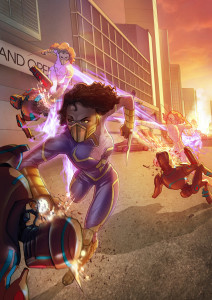 Publisher: YouNeek Studios
Created by: Roye Okupe
1st appearance: E.X.O. – The Legend of Wale Williams Part One
Nationality:  Nigeria
Team Affiliations:  N/A
Legal Status:  N/A
Height:   5'10             Weight: 130lbs
Eye color:  Black        Hair color: Black
Relatives: N/A
Skills and abilities:Not much is known about her personal life, however, reports have suggested she is extremely adept at stealth and covert operations. It is rumored she once brought down an entire CREED base without being spotted. With soldiers reporting all they remembered seeing before being knocked out was a purple streak.
 Powers: Fury has the ability to move (in short bursts) at super speeds. She has been clocked at traveling close to the speed of sound and is believed to possibly move even faster. Fury has also been seen to leap from the ground onto buildings as high as 150 feet. It would seem her metallic boots somehow give her these incredible powers.
Biography
Friend or foe? Enemy or ally? No one truly knows when it comes to Fury. After their "coincidental" encounter, it becomes clear she knows more about Wale's history than she's letting on. Extremely proficient in combat, Fury fights with what appears to be the ancient martial arts technique known as Ninjitsu. That, coupled with retractable blades from a pair gauntlets and boots that allow her to move (in short bursts) close to the speed of sound, makes her a lethal opponent in battle.