Captain America (Character)
Publisher: Marvel Comics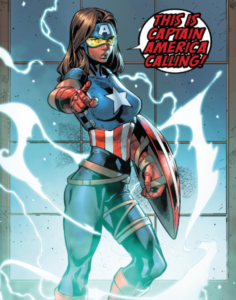 Created by: Al Ewing and Alan Davis
1st appearance: Avengers- Age of Ultron #1, 2015
Real Name: Danielle Cage
Nationality: American
Team Affiliations: The Avengers
Legal Status: Unknown
Height: 5'8                       Weight: 155 lbs
Eyes: Brown                        Hair: Brown
Relatives: Jewel (Mother), Luke Cage (Father), Boss Cage (Son), James Jr./Coldfire (Uncle), James Leonard Lucas (Grandfather), Esther (Grandmother)
Skills and Abilities: Trained hand to hand combatant.
Powers: Danielle inherited a combination of her parent's superhuman strength and nigh invulnerability.
Equipment: She has access to a shield fashioned like the circular one carried by Captain America/Steve Rogers. This shield has three magnetic devices which she can use to pull the shield to her and fire it with deadly precision.
[amazon_link asins='B00WYWVT6G,0785155651,0785184856′ template='ProductCarousel' store='Marvel Comics' marketplace='US' link_id='81151c96-c807-11e7-aa86-a952815dfbd3′]
Biography
Born to former Avengers Luke Cage and Jewel this made her the very first child for both superheroes. In the year 20XX she rose to the rank of Captain America and battled the Golden Skull. While in the midst of her latest fight she is pulled through time by Dr. Doom alongside Vision, Wasp, Hulk, Thor/female, Jim Rhodes/Iron Man and Thor/Odinson [Avengers- Age of Ultron #1, 2015].
They were tasked in this new world to defeat Ultron who had risen to the rank of All father of Asgard [Avengers- Age of Ultron #1, 2015].