Secret Wars (2015) #2 Review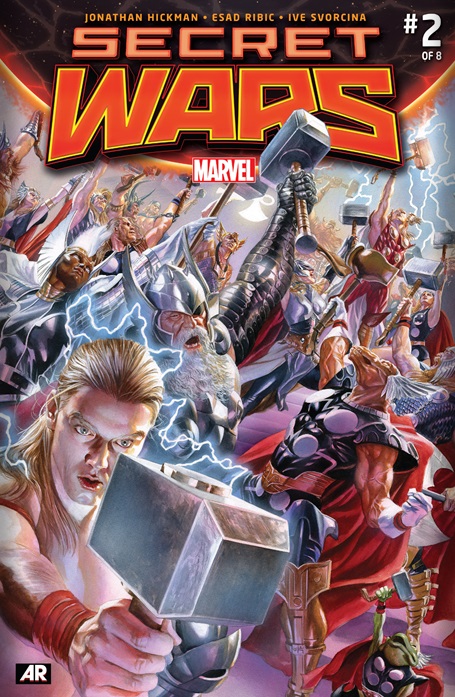 WHEN THE MARVEL UNIVERSE IS GONE, ALL THAT REMAINS IS BATTLEWORLD! LEARN THE SECRETS OF THIS BRAVE NEW REALM IN THIS SPECIAL OVERSIZED ISSUE!
What I thought
After last issue where creation itself was destroyed and Doom, outside all that armed with crazy power was bathed in white light. Now there is a new world made from parts and portions of the multiverse. The new status quo has Doom as God. We have a new member of the Doomguard being empowered and he becomes the eyes through which we learn about how things work in Doom's kingdom.  Higher Avalon is detailed well and I found myself actually caring about Jamie Braddock even though it wasn't 616 Jamie who I have not thought about in over ten years. How conflicts are resolved between nobles was also entertaining. Am I the only one that got a decidedly Game of Thrones Vibe from the whole thing? Not complaining, just an observation. Sinister when written well is always entertaining and this rendition was just an uppity prick that just demanded attention and respect. He was delicious to read! The revelation of what lies beyond the wall was also terrifying and intriguing at the same time. It made the imminent death of James Braddock even more impactful. When the Dark Cabal awakens at the end of the book however you know things are about to get even more interesting as beings outside of Doom's control enter the game. The map of Battleword was also detailed enough and introduced at just the right moment to pique interest.
Hickman has blown me away yet again with this seamless fusion of tale and art, humor and seriousness, sci-fi and fantasy that I'm just happy to have the book in my hand. Avengers Vs X-men, AXIS etc. they each failed to fill me with just awe and giddiness but Secret Wars #2 does that in a way that only the Age of Apocalypse from the 90's has managed
. I loved everything about this issue! It had action, it had mystery, it had emotion, great art etc. This is Jonothan Hickman kicking ass and taking so many names he'll need all of battleword to carry em!
Overall: Pitch perfect 5/5 stars