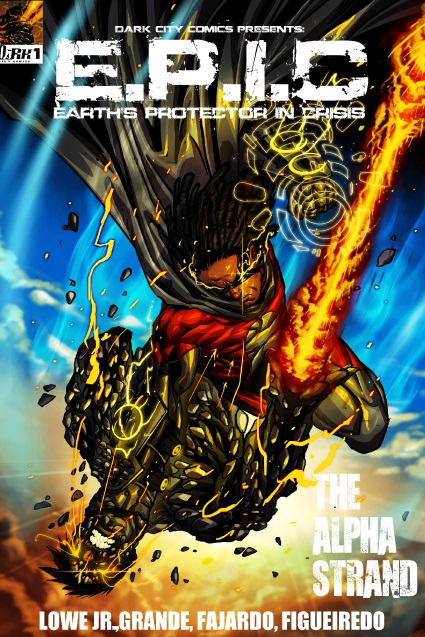 The Good
Story-This issue tells the origin of our hero and it does that pretty well. Our hero was the star pupil of a famous Egyptologist/Archaeologist who gets drawn into a rich industrialist's bid to acquire great power buried within the Pyramids. Our hero instead gains said power and hijinks ensues. It's a pretty standard superhero origin.
Cover– Brian Fajardo provides the cover art for this opening tale and it is head and shoulders above anything offered up by the interiors. It features E.P.I.C facing off with the man responsible for his new powers. Love the colors!
Colors– J.C Grande must be commended for supplying this book with some truly sexy colors across the board. They have this Jet Grind Radio/90's bright graffiti vibe that is totally sick! J.C you're on my radar son, you do good work!
Potential– So E.P.I.C's activated powers serves as a catalyst for the birth of his world's superhumans the "Alpha Strand". I'm curious to know the ramifications of these activations and the reason why some people gain powers and others don't in the same vein as the Inhumans and mutants. I'm also curious if they will gain generic abilities or if something unique will arise.
Black Hero– From Dark City Comics comes E.P.I.C a brand new black superhero with Egyptian based undefined powers and a new take on the origins of the superhuman/metahuman race. I like his design allot. The red costume with the flowing dreads and cape alongside Green Lantern-esque energy constructs is a nice mix. Aesthetically E.P.I.C is a big winner.
The Bad
Interior Art-While the deep dark inks and graffiti inspired colors of J.C Grande elevate the whole package the weakest link has to be the art. It's adequate for what takes place but it bogs down and ultimately holds this book back from the major leagues. Some of the problems I had include faces that lacked emotion and others was just plain stiff.
The Ugly
This is a great chance to get in on the ground floor of what could turn out to be one of the better Indy books of 2014. With gorgeous graffiti inspired colors, a detailed cover and a new black superhero of E.P.I.C proportions, this book starts with some serious bang! We give E.P.I.C #1- 3/5 Stars