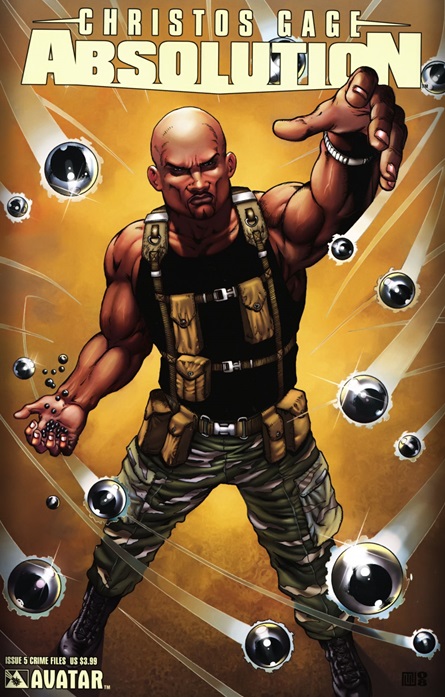 Publisher: Avatar Press
Created by: Christos Gage
First Appearance: Absolution #2,
Team Affiliation: Unknown
Hair: Black                   Eyes: Brown
Height: 6'1                  Weight: 198 lbs
Relatives: Unknown
Skills and Abilities: Trained in armed and unarmed combat by the military.
Powers: Steel Rain is a telekinetic, able to move objects with the power of his mind.
Equipment: He carries with him small metal marbles/bullets which he uses offensively to "shoot" his opponents.
Biography
Steel rain was part of a special task force working alongside John Dusk, Alpha, Cluster and Chris. All of his team was gifted with superhuman abilities the origins of which are still unclear. He first appears when John Dusk tries to explain away the deaths of a few criminals [Absolution #2]. He appears again when they realize that John was responsible for the murders. Alongside his team they engage his former friend in battle, he is taken out as the building in which they were fighting collapsed. He was turned over to medics who turned him over to the hospital for treatment [Absolution #5].