New Warriors (2014) #4 Review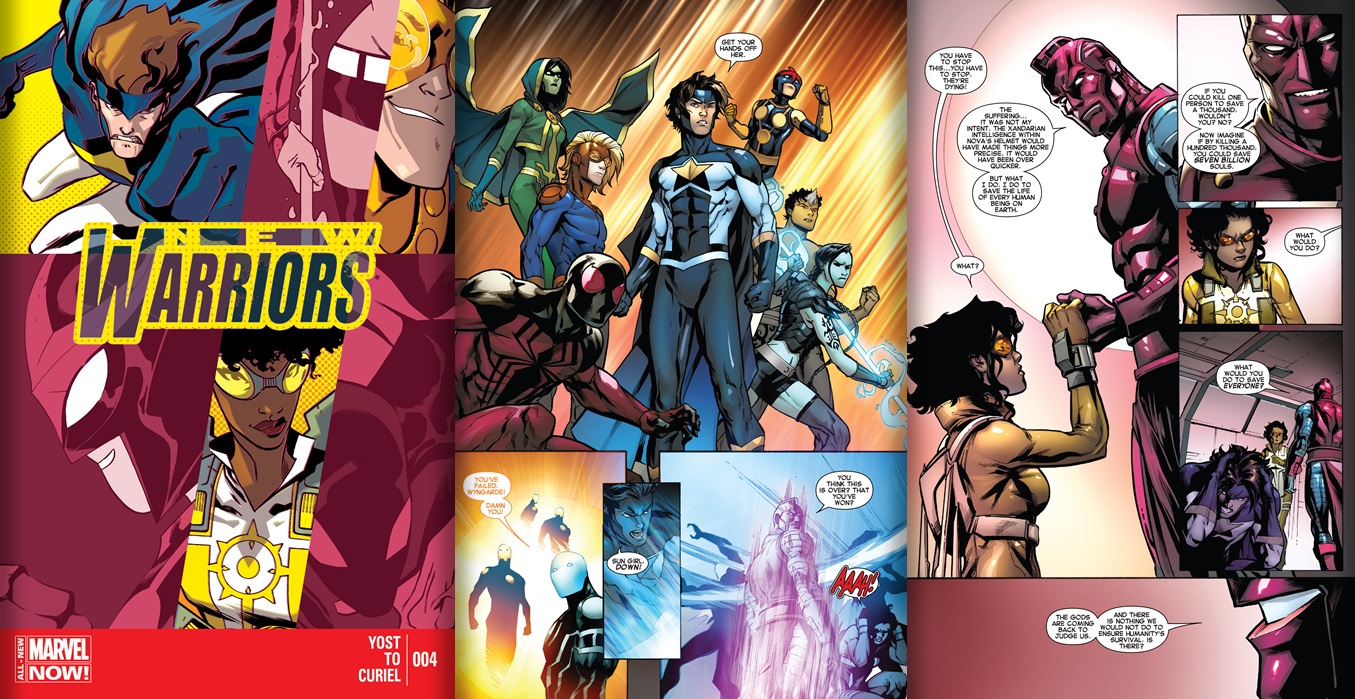 THE KIDS ARE ALL FIGHT (PART 4 of 4)
The end is here as the Second Evolutionary War begins!
The New Warriors face off against the High Evolutionary. Can they stop world-wide genocide? Should they? How many lives would you sacrifice to save all of humanity?
Judgement is coming for the Marvel Universe.
Summary
In the past both the High Evolutionary and the Evolutionaries arrive in the desert and meet a mysterious benefactor. In the present Kid-Nova battles both. On the verge of defeat Sun Girl, Justice, Speedball and Haichi arrive. They rescue Scarlet Spider, Water snake and Hummingbird. All out war erupts between everyone. The High Evolutionary activates his bomb which causes all non-humans to keel over in pain. Sun Girl manages to damage the machine and thus save the day. The team rallies and the High Evolutionary teleports away, in the savage land they lament that the second Evolutionary war has begun.
What I thought
This book has great art and colors first off. This issue also wraps up the opening arc of the title, solidifies the team and the books mandate. All the members manage to represent a different part of marvel's diverse Earthling population which gives the book a large playground well outside the typical Avengers or X-men stuff. The story also manages to put Sun-Girl in the centre of things despite her simply being a human tech user. The little character interactions were also done well and showcased the diverse personalities of the team. The fight scenes should also be commended as they flowed fluidly.
I still passionately hate the de-aging of Justice and Speedball. Also wish Night Thrasher, Rage, Midnight's Fire or Silouette was on this team. What's there is decent but I need more from the foundation days of New Warriors. Night Thrasher in particular would really make this a must read title for me since he started the whole New Warrior mess back in the day.
Overall this was a decent read so I give it a 3/5 stars