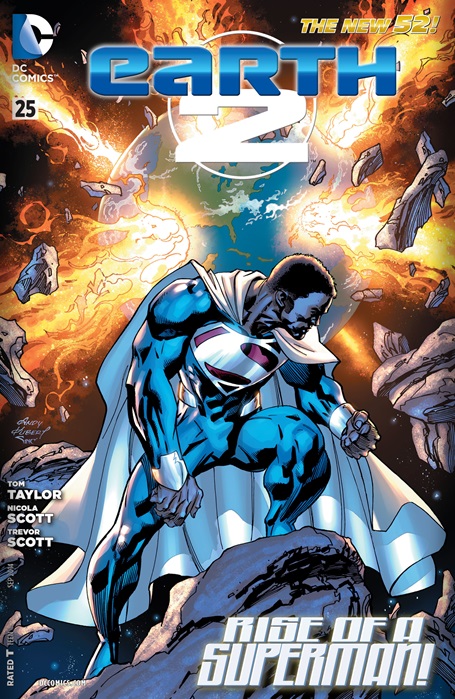 In this extra-sized issue, Val-Zod finally accepts his role as the new Superman of Earth 2 as he faces the twisted, brutal original Superman, who once protected the planet but now prepares it for Apokolips and the forces of Darkseid.
The Good
Art- Nicola Scott's still here and still kicking ass on the artistic front. Some parts are not as detailed as I would like but the overall package is pretty darn solid. The colors by Pete Pantazis compliment everything making this one sexy and complete package.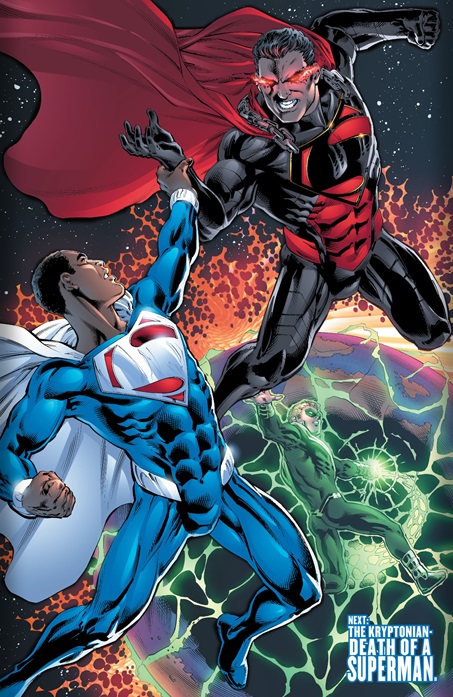 Cover-Sexy, fresh and favorite are just a few of the words that best describe the very sexy blue and white costume of Val-Zod on this cover. Val is in the foreground while Earth burns in the background, the Earth 2 logo perched at the top. It's a well designed and executed cover.
Emotion– It was truly moving to watch the exchange between Evil Superman and his parents. It's obvious the brainwashing is complete but Clarke is still inside there somewhere, twisted and almost unrecognizable. When Jonathan Kent has his outburst you know it can't end well and it's been simmering below the surface for a few issues now. Evil Superman's tearful plea of love to Louis shows the inner turmoil he's going through, he wants everything he had while he was good but is so radically different in temperament that he's a walking powder keg.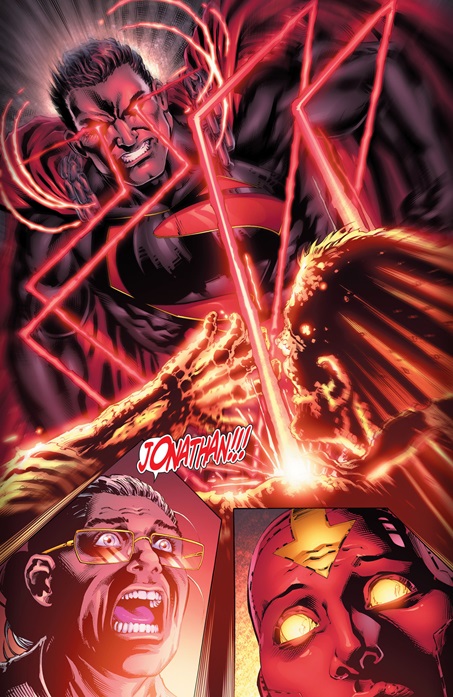 Story-Alan Scott, Hawkgirl and Jay Garrick flee from Beguiler and an army of para-demons. Flash pushes his power further than he has before and throws Beguiler into the speed force. Aquawoman destroys the Para-demon army. On Amazonia Val-Zod, our hero recounts a few details of his origin to Jimmy Olsen when Dr. Fate comes in and manages to inspire him into action. Val fixes the helmet of fate. In Kansas Evil Superman kills his father before being called off by Bedlam who using the brains of Mr. Terrific and Sloan activates a gigantic boom tube to take Earth to Apokalips. In space Alan tries to stop Earth from teleporting and he's intercepted by Evil Superman who get's grabbed by Val-Zod.
Origin– These are only glimmers of Val-Zod's past on Krypton but I'm intrigued beyond reason. This added twist on established Superman mythology goes miles in making Val less like the big blue boy scout and more likable and relatable to established readers.
Black Heroes– For those who like to keep count this book has Val-Zod and Hawkgirl both used in meaningful ways.
The Bad
 Art–As mentioned above there are bouts of inconsistency in the art.
Cover-The alternate cover with the two Batmen makes little sense to me and it's rendered worse than the standard cover.
The Ugly
Overall Earth 2 continues to be a shining beacon of well written and illustrated comic book heaven from DC Comics. I'm not a huge DC Comics fan but Earth 2 has been a consistent hit since its inception. We recommend Earth 2 as a quality book with top notch art and a great story- 4/5