New Avengers (2013) #20 Review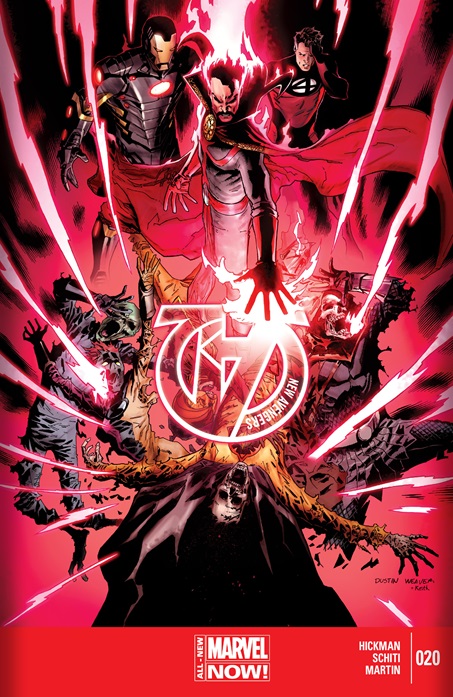 How far is Doctor Strange willing to go to protect the Earth from the Great Society? Too far…
The Good
Cover– Mostly red hued with the New Avengers sign serving as the runic symbol as Doctor Strange kills the great society, I like it!
Fight– I've waited a mighty long time for this book to deliver a no holds barred knock down drag out fight. This issue delivers! Black Panther vs. The Rider was pretty damn cool, so much so I would have loved to actually see more. Sun God vs. Hulk went as one would expect a bout between Superman and Hulk would go.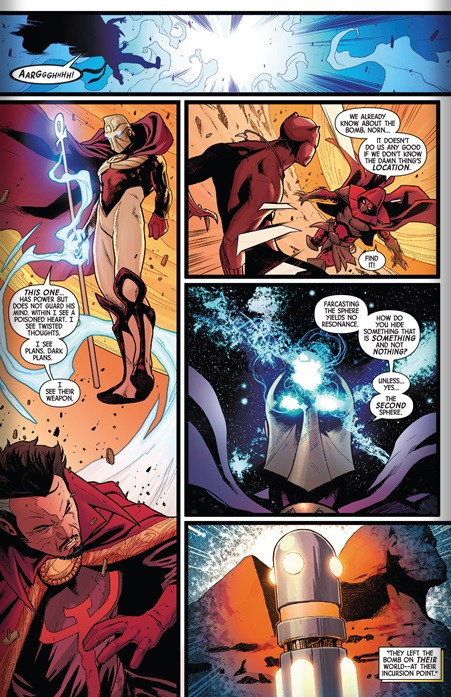 The more unpredictable exchanges occurred between the Jovian and Namor who in his typical bravado expected he would outclass his opponent with raw strength and "good looks". Boundless meanwhile makes short work of Iron Man in a blow to his ego that won't be soon forgotten. Black Bolt vs. Spectrum is perhaps something for next issue since there is no clear cut winner yet. The clincher though is the battle between Dr. Strange and the Norn, which you must buy the issue and check out your darn self.
Art– Valerio Schiti turns in top notch art that while not super detailed manages to capture the essence of the epic fight in a major way. The fights flow seamlessly and the choreography is very well done. The action is incredibly smooth and animated which when you think about it is a must have when you have a fight issue in your hands.  Also worth noting are the facial expressions of the characters which adds a certain level of emotional depth to the exchange. Frank Martin and Paul Mounts are on color duty and they manage to layer their colors onto Valerio's excellent art to create a big that truly is one of the best on the stands!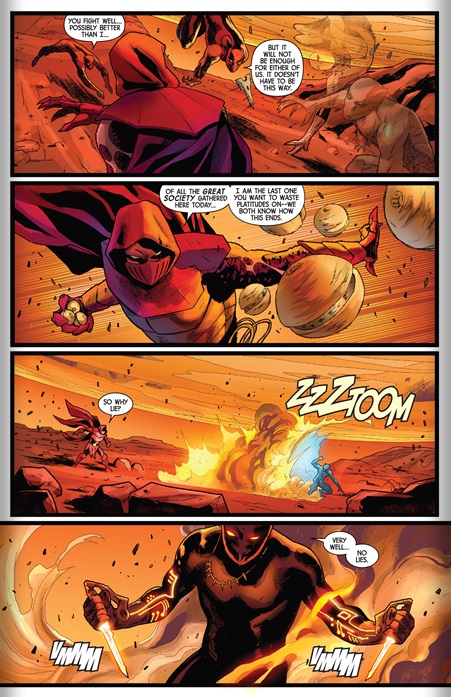 Continuity- While reading I kept thinking Dr. Strange is powerful as all get out but his mind is his Achilles heel.  I mean that was the premise of everything that happened during Infinity. In this issue the Norn shows this glaring inadequacy again. It's not a big deal to some but in a day and age where characters are written so inconsistently I found this a great bit of continuity which enhanced my viewing pleasure.
Revelations- WTF happened to Dr. Strange's soul?! Did he lose a portion recently or a long time ago?!  The Norn is just a? I did not see that coming!
Story- It's a flashback to Dr. Strange selling his soul in the black market. All almost going as planned until he learns he doesn't have a full soul to barter with. In the present it's all out war between the Illuminati/New Avengers and the great society. The New Avengers are out classed and on the verge of defeat when Dr. Strange unleashes the dark power he's long held at bay.
Black Hero– Hickman has been using Black Panther/T'challa in some pretty damn good ways in this book. The new tech Toys, shields and costume all leave me foaming at the mouth and NEEDING more in my life. If Hickman launches a Black Panther ongoing series I will $hit bricks and cough up money.
The Bad
The Cliff hanger– This issue reveals what took place in the black market and while it is shocking it kind of undermines that moment a few issues back where the proposition was made.
The Ugly
Overall this issue is well illustrated, beautifully characterized and excellently realized. New Avengers is still one of the very best books being published monthly by any comic book company. It blows the competition out the water while delivering a deeply engaging multiversal epic. We give this issue a 4.5/5