THE RETURN OF THE ORIGINAL "QUANTUM AND WOODY" HITS IN OCTOBER!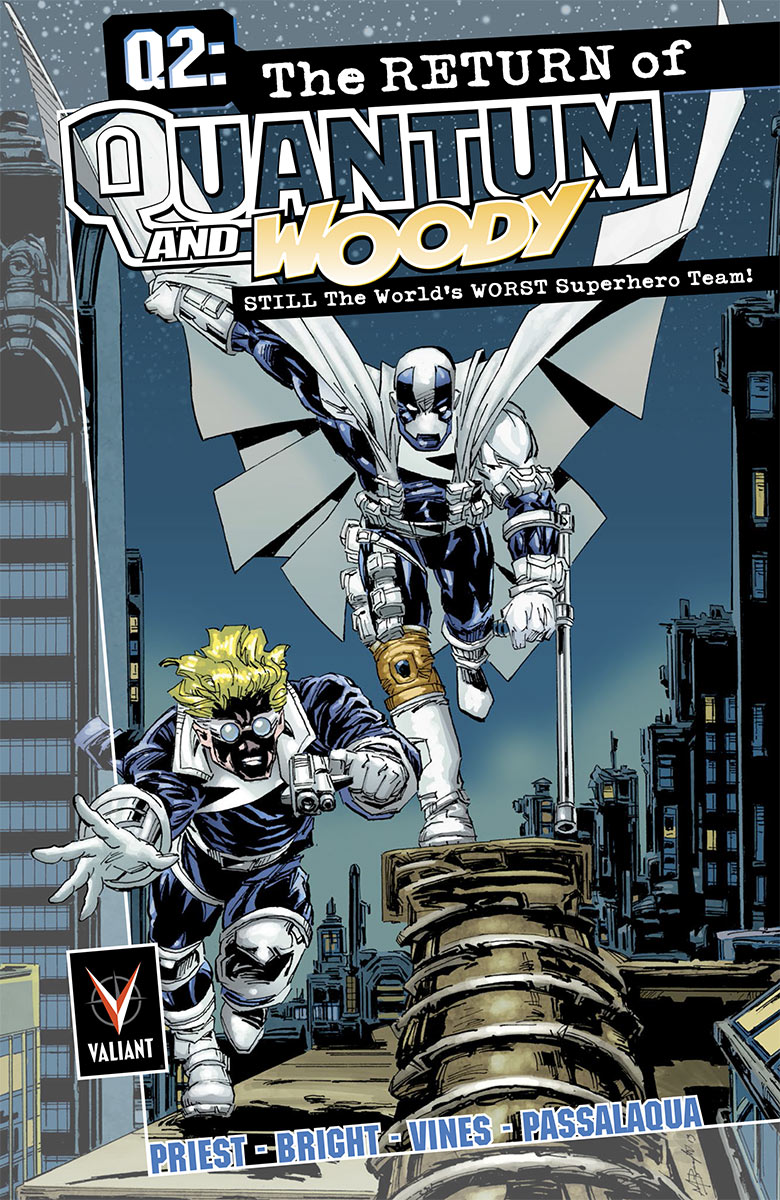 In case you missed it back in 2013 the Original creators of Quantum and Woody Christopher Priest and M. D Bright are hard at work on finishing their initial run of Quantum and Woody for Valiant Entertainment. This was welcomed news since Christopher Priest had left comics after finishing his now legendary Black Panther run and becoming disillusioned with the industry.
Curiously this series all but confirms  a "MULTIVERSE" in the new Valiant universe the same way Marvel has multiple earths, why else would there be a need to finish the initial Quantum and Woody when the new version is such a hit?
If as we presume this does indicate a multiverse then their is hope that the Original Harbingers and Original Shadowman may make not only a return but may later star alongside their modern counterparts. Color us intrigued!
Here is an excerpt from CBR on the series:
"The guys have found some way to separate themselves, so they literally have not seen each other in at least a decade or more," Priest told CBR in October 2013. "Woody has gone on to other things. He's not doing the hero bit anymore. Eric continued being Quantum for quite a while, but he actually stopped being Quantum for a number of years and no one has seen the masked vigilante Quantum in quite a while. It's just like old friends rediscovering themselves. Basically, Woody is off living his life, the Quantum character reappears on the news and some news chopper gets a shot of Quantum in action. At first, Woody is kind of scoffing at him, because he knows Eric's way too old to be running around like this now. But then he sees on the news that Quantum has a new partner — and the partner's like a teenage sidekick. Woody thinks Eric's lost his mind, that he's being really reckless and irresponsible, endangering some kid. In theory, Woody thinks he has to seek Quantum out and confront him about this new behavior and talk some sense into him."
What do you think of the return of Christopher Priest to Comics?
What do you think of Valiant potentially having a multiverse?
Would you want the return of the original Valiant Universe?
Sound off below!
More as it breaks!
[SOURCE: CBR]